This page contains archived content and is no longer being updated. At the time of publication, it represented the best available science.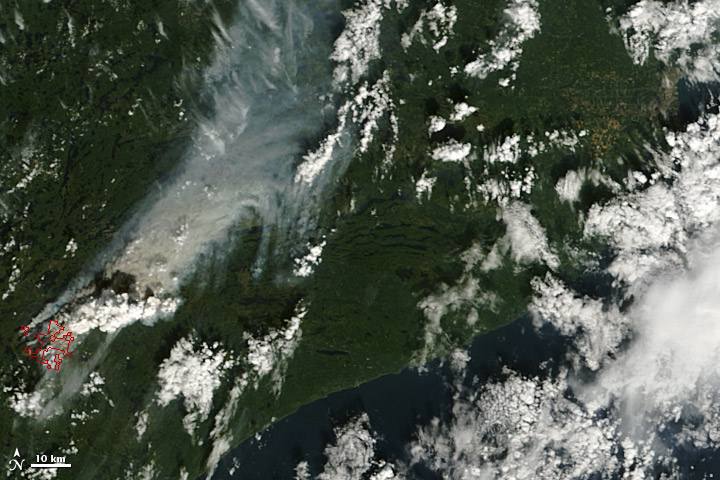 On August 18, 2011, a lightning strike in the Boundary Waters Canoe Area Wilderness region of northeastern Minnesota sparked a forest fire. On September 12, the Incident Information System reported that the Pagami Creek Fire "made an unprecedented 16-mile run to the east, reaching the edge of Polly Lake. The fire became a plume-driven event and reached in excess of 60,000 acres."
The Moderate Resolution Imaging Spectroradiometer (MODIS) on NASA's Terra satellite captured the top image just after noon Central Daylight Time on September 12, 2011. MODIS on NASA's Aqua satellite captured the bottom image about two hours later. Red outlines show where MODIS detected areas of high surface temperatures associated with active burning.
These natural-color images document the rapid expansion of the fire in just a matter of hours. They also show the development of a plume above the fire. Just after noon, the cauliflower-textured plume rises well above the gray-beige smoke plume that blows toward the north-northeast. Not quite two hours later, the cloudy plume has fanned out to the east and northeast, thick enough to completely hide the land and water surfaces below.
Large fires can do more than scorch vegetation and clog the skies with smoke. They can actually create their own weather. By heating the air overhead, fires push the warmed air upward. Mixed with smoke, the air rises high enough for its water vapor to condense and form clouds. If the air rises fast enough, the water vapor forms ice crystals that charge the cloud with electricity, and lightning often results. These fire-provoked thunderstorm clouds are known as pyrocumulonimbus clouds. Minnesota Public Radio reported that the plume from the Pagami Creek Fire was picked up by doppler radar.
The extreme behavior of the fire prompted evacuations in the region, the Incident Information System reported. More than 100 firefighters were battling the blaze as of September 13, 2011.
NASA images courtesy Jeff Schmaltz, MODIS Rapid Response Team at NASA GSFC. Caption by Michon Scott.