This page contains archived content and is no longer being updated. At the time of publication, it represented the best available science.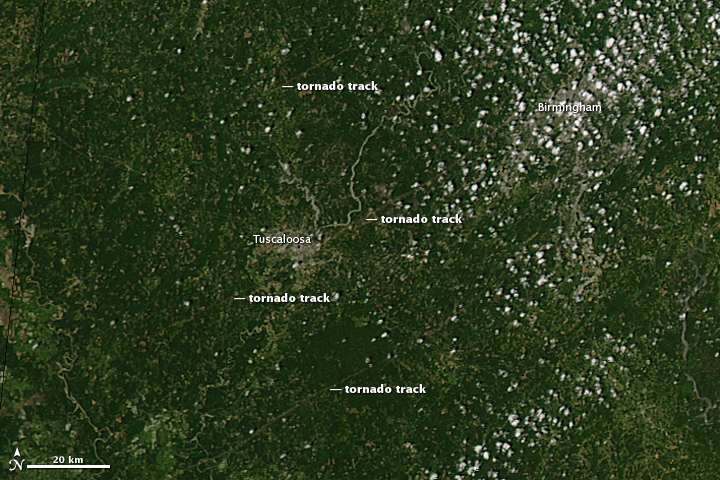 Deadly tornadoes raked across Alabama on April 27, 2011, killing as many as 210 people as of April 29. The hardest-hit community was Tuscaloosa. The top image, acquired on April 28 by the Moderate Resolution Imaging Spectroradiometer (MODIS) on NASA's Aqua satellite, shows three tornado tracks through and around the city. The lower image, from April 12, shows the area before the storm.
The tracks are pale brown trails where green trees and plants have been uprooted, leaving disturbed ground. Though faint, the center track runs from southwest of Tuscaloosa, through the gray city, and extends northeast towards Birmingham. Two other tracks run parallel to the center track. The northernmost track lies in an area where the National Weather Service reported a tornado, but no tornado was reported in the vicinity of the more visible southern track. In the southern region, strong winds were reported.
The tornadoes were part of a larger weather pattern that produced more than 150 tornadoes across six states, according to the National Weather Service. The death toll reached 300 on April 29, making the outbreak the deadliest in the United States since 1974.
NASA images (April 12 and April 28) courtesy Jeff Schmaltz, MODIS Rapid Response Team at NASA GSFC. Caption by Holli Riebeek.