This page contains archived content and is no longer being updated. At the time of publication, it represented the best available science.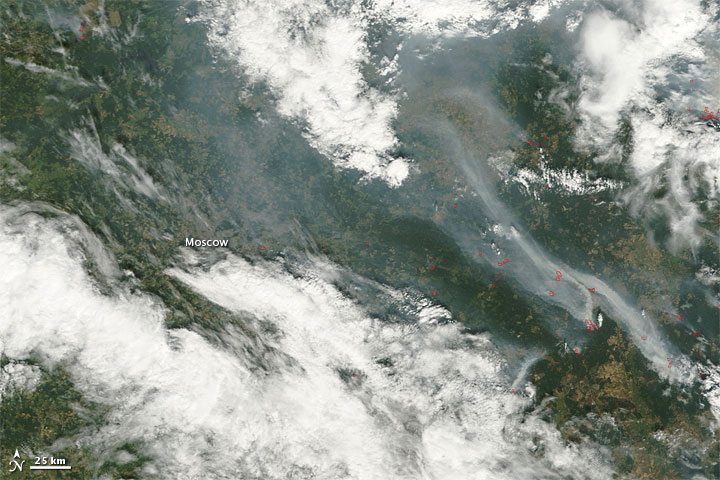 Smoke from peat fires hovered over a sweltering Moscow in late July 2010, the BBC reported. As firefighters tried to put out some 60 fires in the surrounding countryside, authorities advised Muscovites with breathing difficulties to stay inside or wear gauze masks. As peat bogs burned, officials urged employers to give workers siesta breaks during the hottest part of the day, and urged farmers to harvest at night, according to Bloomberg.
The Moderate Resolution Imaging Spectroradiometer (MODIS) on NASA's Terra satellite captured this natural-color image of Moscow and the surrounding region on July 27, 2010. A cloudbank stops short of hiding the city from the satellite's view, and north of the clouds, a dull blue-gray haze hangs over the area. East-southeast of Moscow, multiple fires (marked by red outlines) send thick plumes of smoke toward the northwest.
The Moscow heat wave arrived amid a severe drought that threatened to raise grain prices. The Russian Federation's agriculture ministry declared weather-related emergencies in more than 20 crop-producing regions.
Severe fires also burned in eastern Siberia throughout July 2010.
NASA image courtesy MODIS Rapid Response Team. Caption by Michon Scott.