This page contains archived content and is no longer being updated. At the time of publication, it represented the best available science.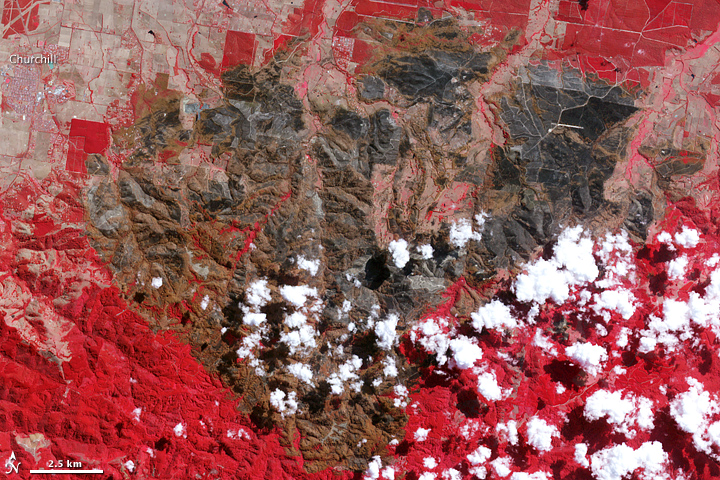 East of Churchill, Victoria, a burn scar left by one of the deadly Australian bushfires in February 2009 sprawls across the landscape in this image captured by the Advanced Spaceborne Thermal Emission and Reflection Radiometer (ASTER) on NASA's Terra satellite on March 14. The image combines visible light with near-infrared light, and although the resulting false-color image doesn't look like a natural photo, it makes the burned areas (charcoal-brown) stand out better from unburned vegetation (red) and areas where vegetation is naturally sparse or dormant (beige). The burn scar is brown is some places and more charcoal-colored in others. The differences could be because the severity of the fire was different from place to place, but it could also be due to differences in the type of vegetation that burned and the characteristics of the underlying soil. According to news reports, this fire resulted in nearly two dozen deaths, and it appears to have resulted from arson.
NASA image created by Jesse Allen, using data provided courtesy of NASA/GSFC/METI/ERSDAC/JAROS, and the U.S./Japan ASTER Science Team. Caption by Rebecca Lindsey.