This page contains archived content and is no longer being updated. At the time of publication, it represented the best available science.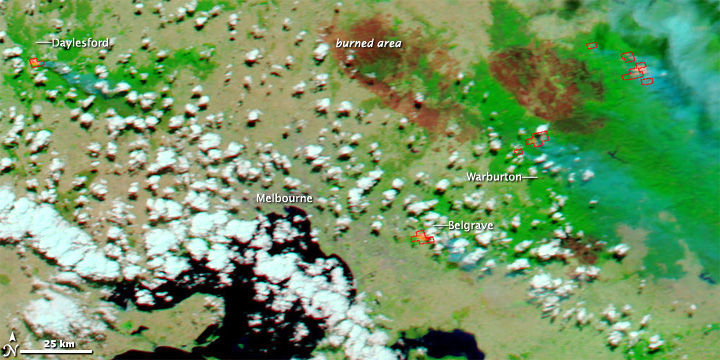 Bushfires in Victoria, Australia, flared up significantly in the last week of February 2009. The state has been battling deadly fires since late January 2009 with only brief periods of calm. According to news reports from the Australian Broadcasting Corporation on February 23, new emergency evacuation warnings over the weekend had forced hundreds of residents from communities across the state into shelters. This pair of images from the Moderate Resolution Imaging Spectroradiometer (MODIS) on NASA's Aqua satellite shows the fires on February 23.
The top image is a natural-color (photo-like) view. Red outlines trace the locations where MODIS detected active fires. The bottom image includes visible, shortwave-, and near-infrared light to thin the smoke and highlight the burned areas (brick red). In this type of image, areas of glowing pink often indicate open flame. Among the areas where bushfires were threatening communities were Daylesford, Warburton, and Belgrave.
The high-resolution images provided above are at MODIS' maximum spatial resolution (level of detail) of 250 meters per pixel. The MODIS Rapid Response Team provides twice-daily images of Victoria in additional resolutions.
NASA image courtesy the MODIS Rapid Response Team. Caption by Rebecca Lindsey.