This page contains archived content and is no longer being updated. At the time of publication, it represented the best available science.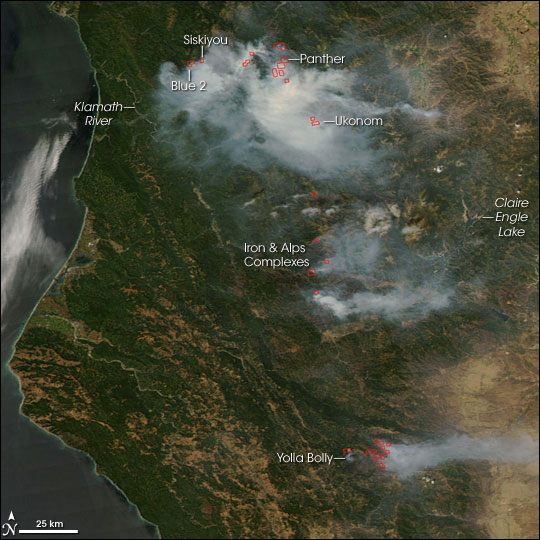 Forest fires in Northern California were slowly being contained in the first weeks of August 2008. Many of the fires started in the first week of summer when a rash of lightning strikes ignited hundreds of fires in the state. The image above was captured by the Moderate Resolution Imaging Spectroradiometer (MODIS) on NASA's Aqua satellite on August 10. Places where the sensor detected actively burning fire are outlined in red.
According to the National Interagency Fire Center's report for August 11, the Iron and Alps Complexes had a combined acreage of 95,171 acres. The next largest fire was the Yolla Bolly Complex, which was 86,192 acres. Other large fires included the Siskiyou Complex (61,404 acres), the Panther Fire (21,802 acres), and the Ukonom Complex (49,929 acres).
The high-resolution image provided above is at MODIS' maximum spatial resolution (level of detail) of 250 meters per pixel. The MODIS Rapid Response Team provides twice-daily images of the region in additional resolutions.
NASA image courtesy the MODIS Rapid Response Team. Caption by Rebecca Lindsey.