This page contains archived content and is no longer being updated. At the time of publication, it represented the best available science.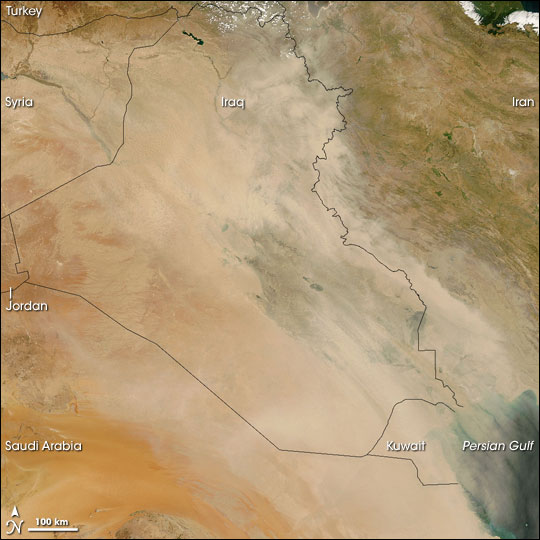 Dust plumes filled the skies over Iraq on June 8, 2008, as the Moderate Resolution Imaging Spectroradiometer (MODIS) on NASA's Aqua satellite flew overhead. This natural-color image shows the pale beige plumes blowing toward the southeast and over the Persian Gulf. The northeast edge of the storm loosely mirrors the border between Iraq and Iran. In the southwest, the storm's boundary is much less distinct. Some dust hovers over Saudi Arabia.
A shamal is a northwesterly wind that often blows over the floodplain of the Tigris and Euphrates Rivers. The fine sediments of this floodplain provide ample material for dust storms in the region. In this image, the dust is thick enough to obscure the satellite's view of some of Iraq's large lakes, including Buhayrat ath Tharthar and Buhayrat ar Razazah.
NASA image courtesy the MODIS Rapid Response Team at NASA GSFC. The Rapid Response Team provides daily images of this region.