This page contains archived content and is no longer being updated. At the time of publication, it represented the best available science.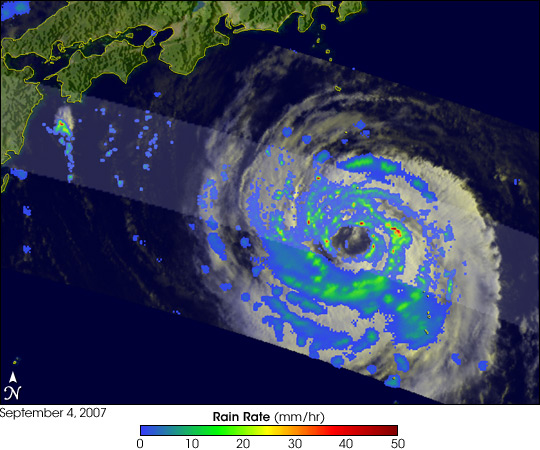 Typhoon Fitow moved gradually across the western Pacific in early September 2007, drawing closer to Japan and gaining strength. Forecasters were calling for the storm to continue on its track toward Honshu and make landfall on the island on September 6.
This image shows clouds and rainfall associated with Typhoon Fitow at 6:25 a.m. local time on September 5 (21:51 UTC on September 4). At this time, the storm was a Category 2 typhoon. The data come from the Tropical Rainfall Measuring Mission (TRMM) satellite. Rain rates in the center of the swath are from the TRMM Precipitation Radar, while those in the outer swath come from the TRMM Microwave Imager. The rain rates are overlaid on infrared data from the TRMM Visible Infrared Scanner.
A well-defined eye (dark center) marks the center of Fitow. The eye was surrounded by a band of intense rain; scattered locations within the eyewall (ring of clouds surrounding the eye) and the inner spiral arms also showed heavy rain (green arcs and red patches indicate moderate to heavy rain). The sharp curvature of these rain features means that Fitow's circulation was well developed, though the bands of clouds were not as tightly wound as they would be in a much stronger storm. The eyewall was not a solid wall of intense rain as it would likely be in a super typhoon (Category 4 and 5). At the time of this image, Fitow's maximum sustained winds were estimated at 140 kilometers per hour (85 miles per hour) according to the Joint Typhoon Warning Center.
The TRMM satellite was placed into service in November 1997. From its low-earth orbit, TRMM provides valuable images and information on storm systems around the tropics using a combination of passive microwave and active radar sensors, including the first precipitation radar in space. TRMM is a joint mission between NASA and the Japanese space agency, JAXA.
Image produced by Hal Pierce (SSAI/NASA GSFC).