This page contains archived content and is no longer being updated. At the time of publication, it represented the best available science.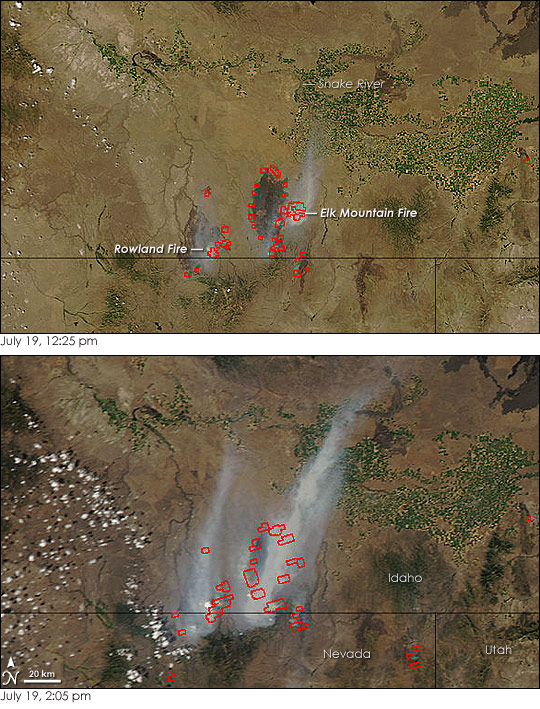 Strong winds fanned wildfires across the western United States on July 19, 2007. The hot, dry, windy conditions led the National Interagency Fire Center to move to a National Preparedness Level of 5 on a five-point scale, indicating that the fires were numerous, large, and widespread enough to potentially exhaust fire-fighting resources. More than a million acres were burning across the United States in 72 large wildfires on July 19, 2007, said the National Interagency Fire Center.
Among the largest fires were the Rowland and Elk Mountain fires burning in southwestern Idaho. The active fronts of these fires are outlined in red in this pair of photo-like images acquired by the Moderate Resolution Imaging Spectroradiometer (MODIS) on July 19, 2007. The top image was taken at 12:25 p.m., Mountain Daylight Time, when the MODIS on NASA's Terra satellite passed over head. The active parts of the Elk Mountain fire surround a dark brown oval of charred land. The fast-moving flames had consumed much of this area in the previous 24 hours. A MODIS image taken on the afternoon of July 18, reveals that the fire had been relatively small the previous day, and little land around the fire was charred. The Rowland fire, by contrast, was smaller on July 19 than it had been on July 18.
At 2:05 p.m. on July 19, less than two hours after the top image was taken, the MODIS sensor aboard NASA's Aqua satellite captured the lower image. In the two-hour period between images, winds and fire activity picked up substantially. By the time of the second image, the fires were racing through grass and sagebrush and pumping out dense plumes of smoke. The smoke obscures the burned land and the surrounding desert landscape. Strong winds were pulling the smoke north in long plumes that stretch over the green and gold Snake River Plain. The National Interagency Fire Center (NIFC) reported that both the Rowland and Elk Mountain fires exhibited extreme fire behavior, with fast-moving or unpredictable flames, and that it threatened structures and power lines. On July 20, the Rowland fire had burned 95,000 acres and was 15 percent contained, while the Elk Mountain fire had burned 160,000 acres (up from 25,000 acres the day before) and was 10 percent contained, said NIFC.
The large images provided above are at MODIS' maximum resolution (level of detail) of 250 meters per pixel. They stretch south to include much of Nevada and Utah. Both the 12:25 and 2:05 images are available in a variety of resolutions from the MODIS Rapid Response System.
Images courtesy Jeff Schmaltz, MODIS Rapid Response Team at NASA GSFC