This page contains archived content and is no longer being updated. At the time of publication, it represented the best available science.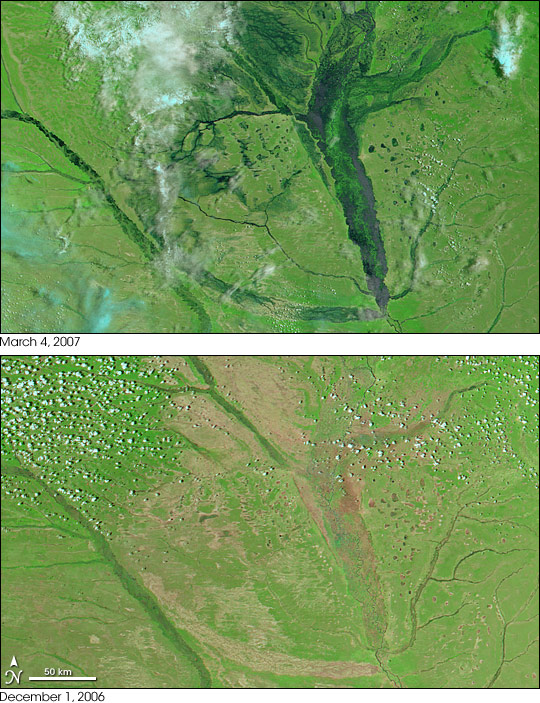 The ribbon of blue flood water that surrounds the Zambezi River in the top image is not unusual. Every year, when the rainy season sets in over southern Angola and western Zambia, the river rises and spreads wide across its flood plain. The intense rains that fell from mid-December through March 2007 caused widespread flooding across southern Africa from Angola to Mozambique. The floods caused dozens of deaths, displaced thousands, and caused extensive damage to both agriculture and infrastructure, said the Dartmouth Flood Observatory. Many of the deadly floods have occurred along various sections of the Zambezi and its tributaries. The floods shown here caused agricultural losses. In additional to being heavier than normal, the rains also came early, reported the Dartmouth Flood Observatory.
The Moderate Resolution Imaging Spectroradiometer (MODIS) on NASA's Terra satellite captured the top image on March 4, 2007. The lower image was taken on December 1, 2006, by the MODIS sensor flying on NASA's Aqua satellite, and is provided here to show the river during the dry season. The images were made with visible and infrared light to highlight the presence of water on the ground. Water is dark blue, while the surrounding plant-covered land is green. Bare or lightly vegetated ground is tan, and clouds are pale blue and white.
NASA image created by Jesse Allen, using data provided by the MODIS Rapid Response team.