This page contains archived content and is no longer being updated. At the time of publication, it represented the best available science.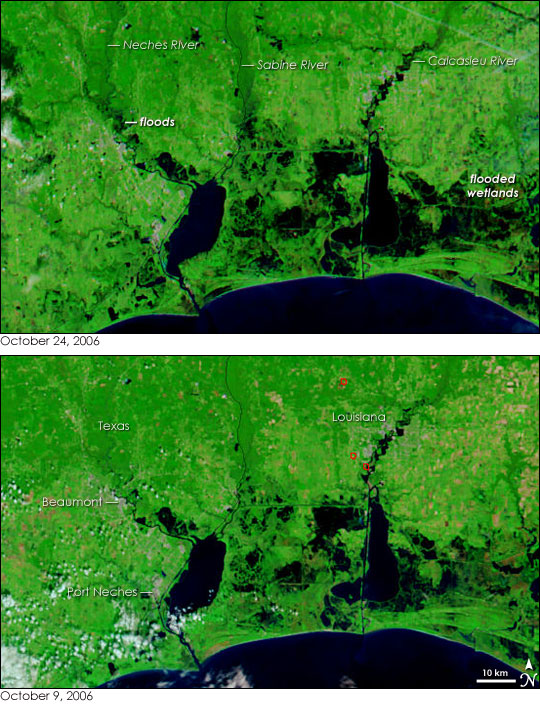 Smudges and pools of black—tale-tell signs of flooding—outline the Neches, Sabine, and Calcasieu Rivers in the top satellite image. Taken by the Moderate Resolution Imaging Spectroradiometer (MODIS) on NASA's Aqua satellite on October 24, 2006, the image was created with both infrared and visible light, a combination that makes water appear black, while plant-covered land is green. The floods that the image reveals occurred after heavy rain inundated Texas and Louisiana. The Neches, Sabine, and Calcasieu swelled as inland runoff drained through the rivers. By October 23, the Neches River was eight feet above flood stage near Beaumont, Texas, reported the Associated Press. The floods destroyed about 40 homes in Beaumont, a region that was still recovering from a direct hit from Hurricane Rita in 2005.
Cement-gray against the verdant landscape in these images, the city of Beaumont sits on the west bank of the Neches River. Smaller cities pepper the distance between Beaumont and its southern neighbor, Port Neches. Patches of tan are sparsely vegetated or plant-free stretches of land. Red boxes outline a few fires in the lower image, which was taken before the rain began. Daily images of the U.S. Gulf Coast are available from the MODIS Rapid Response Team in both false color, as shown here, and photo-like, true color.
NASA images courtesy the MODIS Rapid Response Team at NASA GSFC.