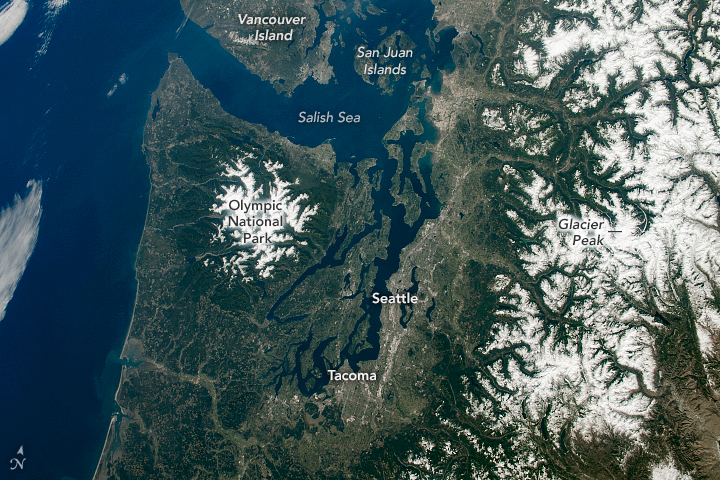 This photograph, taken by an astronaut from the International Space Station (ISS), illustrates several environmental wonders and highlights of the Pacific Northwest of the United States.
The Cascade Mountains, running north-south along the right side of the image, extend from southern British Columbia in Canada through Washington, Oregon, and Northern California in the U.S. The rugged terrain is largely masked by snow in this photograph from mid-April 2020. Several of the peaks are active volcanoes in the Cascade arc. Rising to an elevation of 10,525 feet (3,207 meters), Glacier Peak is one of the youngest and most active volcanoes in the range.
Olympic National Park occupies the center of the Olympic Peninsula in northwestern Washington. Naturalist John Muir, known as "the Father of the National Parks," explored and documented this wilderness in the late 1800s, and President Franklin D. Roosevelt designated the area as a national park in 1938. The park features a spectrum of ecosystems, from rugged coastline to temperate rainforests to the glaciated peaks of the Olympic Mountain Range.
The Salish Sea encompasses several waterways, including the Strait of Georgia, the Strait of Juan de Fuca, and Puget Sound. Situated within these waterways is an archipelago called the San Juan Islands, which were formed from strong bedrock that resisted the glacial scouring of the surrounding straits. The islands were proclaimed a national monument by President Barack Obama in 2013 due to their ecological significance as a home to diverse species and several ecosystems ranging from sandy beaches to Douglas fir forests.
Astronaut photograph ISS062-E-148249 was acquired on April 13, 2020, with a Nikon D5 digital camera using a 50 millimeter lens and is provided by the ISS Crew Earth Observations Facility and the Earth Science and Remote Sensing Unit, Johnson Space Center. The image was taken by a member of the Expedition 62 crew. The image has been cropped and enhanced to improve contrast, and lens artifacts have been removed. The International Space Station Program supports the laboratory as part of the ISS National Lab to help astronauts take pictures of Earth that will be of the greatest value to scientists and the public, and to make those images freely available on the Internet. Additional images taken by astronauts and cosmonauts can be viewed at the NASA/JSC Gateway to Astronaut Photography of Earth. Caption by Laura Phoebus, Jacobs Technology, JETS Contract at NASA-JSC.