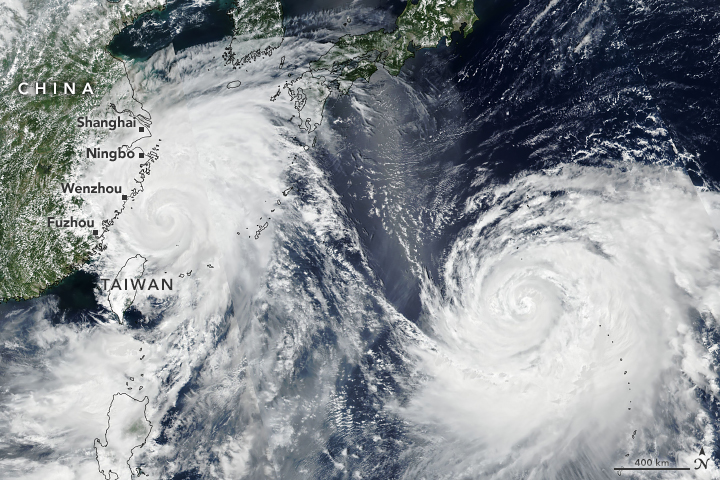 Twin typhoons continued to churn across the Western Pacific Ocean late this week, threatening East Asian countries with destructive winds and rain. When this image was acquired on August 9, 2019, Typhoon Lekima (left) was skirting north of Taiwan and aiming for eastern China.
The image, captured by the Visible Infrared Imaging Radiometer Suite (VIIRS) on the Suomi NPP satellite, shows the storm that day at 05:30 Universal Time (1:30 p.m. China Standard Time). Around that time, the storm was moving toward the northwest with maximum sustained winds of 105 knots (120 miles/195 kilometers per hour), making it a category 3 storm on the Saffir-Simpson wind scale.
Although Taiwan avoided a direct hit from Typhoon Lekima, the storm's outer bands still delivered strong rains and wind, causing flooding and power outages. According to China's Central Weather Bureau, parts of the country's northern mountains received as much as 390 millimeters (15 inches) of rain from August 8-10. The rainfall increased the risk of landslides after a magnitude 6.0 earthquake rattled Taiwan on August 8.
Lekima next aimed for China's Zhejiang Province. According to the Joint Typhoon Warning Center, the typhoon is expected to make landfall early on August 10, about 325 kilometers (200 miles) south of Shanghai. Forecasters expect it will then track northward. The cities labeled on the image all have populations of more than 1.5 million people.
Officials in China have issued a red alert, the highest of four levels on the country's typhoon warning system. According to news reports, thousands of people in Shanghai were asked to prepare to evacuate. Transportation authorities have canceled large numbers of flights, halted trains, a rerouted cruise ships.
Meanwhile, Typhoon Krosa (right) had maximum sustained winds of 85 knots (100 miles/155 kilometers per hour), making it a category 2 storm when the image was acquired. Krosa continues to follow a more northerly path toward Japan, but the track forecasted for this storm remains uncertain.
NASA Earth Observatory image by Joshua Stevens, using VIIRS data from NASA EOSDIS/LANCE and GIBS/Worldview, and the Suomi National Polar-orbiting Partnership. Story by Kathryn Hansen.