This page contains archived content and is no longer being updated. At the time of publication, it represented the best available science.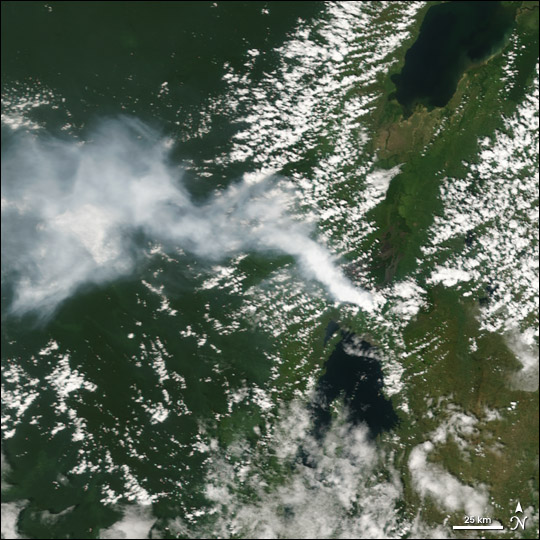 A thick plume of steam rose from Nyiragongo on November 28, 2004. The steam, and possibly some volcanic ash rise above the clouds and drift west, northwest in this Moderate Resolution Imaging Spectroradiometer (MODIS) image acquired by NASA's Terra satellite. Located on the northern shores of Lake Kivu in the Democratic Republic of the Congo, the volcano has a violent history. An eruption in 2002 sent fast-moving rivers of lava into the nearby city of Goma. No damage has been reported for the current eruption, which appears to be similar other eruptions in 2004 in which plumes of steam and ash rose from the volcano.
The volcano has shown other signs of activity in November. Nyiragongo contains a lava lake in its summit crater, and recent media reports say that the Goma Volcano Observatory has noticed a rapid rise in lava levels. While the rising lava is a precursor to an eruption, scientists from the Goma Volcano Observatory do not think an eruption is imminent.
NASA image created by Jesse Allen, Earth Observatory, using data obtained from the Goddard Land Processes DAAC.