Dr. Jon Ranson is an earth scientist specializing in radar and remote sensing. He uses these tools for studying of vegetation type and amount (biomass) in ecosystem research. He serves as the Head of NASA Goddard Space Flight Center's Biospheric Sciences Branch in Greenbelt, Maryland. Under his guidance, the Branch is advancing the use of satellite technology to study the carbon cycle and ecosystem science. Dr. Ranson is currently Principal Investigator of a project to utilize various types of satellite data for mapping forest type and biomass along the tundra-forest interface in the Arctic. He has twice served as acting Program Manager at NASA Headquarters and served as the Terra Project Scientist for five years. Dr. Ranson enjoys music and outdoor activities including hiking, birding, fishing, and camping in the wilderness.
Dr. Guoqing Sun is a research professor at the University of Maryland College Park and is also affiliated with NASA GSFC's Biospheric Sciences Branch. He is an expert in satellite data processing and analysis, remote-sensing modeling, land-cover use change, and Geographic Information Systems (GIS). His specialty is developing and using remote-sensing models for forest canopies and sensor data fusion (combining lidar, radar and passive optical sensors.). Dr. Sun has contributed to several NASA projects dealing with land cover mapping in northeast China and has collaborated on NASA GSFC Siberian research projects. He was also a Principal Investigator for a Shuttle Radar Topographic Mapping project in Siberia.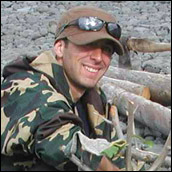 Paul Montesano specializes in the use of remote sensing and geospatial tools primarily for identifying and monitoring terrestrial changes. He received his undergraduate degree from Rutgers University in Geography and his master's from the University of Wisconsin-Madison in Environmental Monitoring. While at the Walton Center for Remote Sensing and Spatial Analysis at Rutgers and at the Environmental Remote Sensing Center at UW-Madison, his research dealt with large-scale (state-level) habitat and resource assessments including delineation of ephemeral wetlands, mapping estuary habitats, and satellite estimates of inland-lake water quality. His work in the NASA GSFC Biospheric Sciences Branch has focused on regional- and continental-scale mapping of the northern boreal forests. In 2007,Paul's rookie year with NASA, he took part in the successful Siberian expedition on the Kochechum River. On that expedition, he learned that Siberian blueberries are better than those from New Jersey and that, though plentiful in August, they are easily outnumbered by the mosquitoes surrounding camp. He also discovered that fish boiled in a bucket can be consumed both for dinner and then again the following morning, and that Larch forests hold many fascinating secrets.
Dr. Ross Nelson is a physical scientist who works for the Biospheric Sciences Branch of Goddard Space Flight Center in Greenbelt, Maryland. He completed his B.S in Forestry at the University of Maine, Orono, his Master's in Forestry/Remote Sensing at Purdue University and earned his Ph.D. in Forestry/ Biometrics at Virginia Polytechnic Institute and State University He has several areas of research. One important area is the use of airborne laser data to characterize the forest canopy and estimate forest biomass, volume, and carbon. He is also working to use moderate and high-resolution satellite data to monitor tropical and subtropical forest conversion. Dr. Nelson is also developing statistical and image-processing procedures for continental and sub-continental resource assessment using satellite imagery. In 2003, Maryland Governor Martin O'Malley, then Mayor of Baltimore, presented a Community Service Award to Ross, in honor of his thousands of hours of volunteer service as a paramedic for Laurel Fire and Rescue.
Dr. Slava Kharuk, a forest ecologist, is Head of the Biological Laboratory of the V.N. Sukachev Insititute of Forests, Siberian Branch of the Russian Academy of Science, in Krasnoyarsk, Siberia. He has collaborated on several NASA- supported projects including projects in Maine, Canada and Siberia with Dr. Ranson and other NASA and USDA Forest Service scientists over the past several years. Dr. Kharuk leads the field and remote-sensing data activities at the Sukachev Institute and collaborates in data analysis research at NASA GSFC.
Dr. Sergei Im is a scientist at the V. N. Sukachev Institute of Forests, Siberian Branch of the Russian Academy of Science in Krasnoyarsk, Siberia. He completed his undergraduate studies at Krasnoyarsk University in 2001 and did his post-graduate studies at the V. N. Sukachev Institute. In 2004, he successfully defended his thesis, "Microwave and optical remote sensing in investigations." He is author and co-author of many scientific papers that have been published in Russian and international journals. His special interests are informatics such as GIS. Dr. Im is a skilled computer programmer in object-oriented C++ (Visual C++) (a software language). He has a particular interest in microwave and optical remote sensing for analysis of land cover dynamics.
Pasha Oskorbin is a scientist at the V.N. Sukachev Institute of Forests, Siberian Branch of the Russian Academy of Science in Krasnoyarsk, Siberia. He is a veteran of several field expeditions in the Siberian forest, working with field studies as well as logistics. This year, as in 2007, he holds a large part of the responsibility for planning for the needs of the scientists, purchasing food, tents, boats, and other items, and transporting these to the field. He is also the primary cook for the expedition.
Dr. Mukhtar Naurzbaev is a senior research associate in the V.N. Sukachev Institute of Forests, Siberian Branch of Russian Academy of Science. He did his undergraduate study at Ura Forestry as an engineer of forestry, and then earned his Ph.D. from the V.N. Sukachev Institute in 1998. He worked as a forestry officer, research officer, and a senior research associate in the State Natural Reserve of Taymjrsky. He then became senior research associate (1999) of the laboratory of dendroclimatology in the V.N. Sukachev Institute. Dr. Naurzbaev is head of the fieldwork expeditions in Taymjr and Indigirka river regions and, in the Institute of Forests, he is a supervisor of a scientific group engaged in the analysis of super-long-term tree-ring chronologies in the subarctic region of Central and Eastern Siberia. Dr. Naurzbaev has coordinated several large Russian projects as well as participated in different international programs supported by the International Association for the promotion of cooperation with scientists from the New Independent States (INTAS) and the National Science Foundation. He is author of 29 papers published in different International and Russian journals and has created the "Tree-Ring Siberian Data-Bank." He has a particular interest in developing tree-ring standardization techniques and spectral analysis. Dr. Naurzbaev is new to this particular expedition group, but brings a wealth of experience in field studies in this remote and harsh region of Siberia.