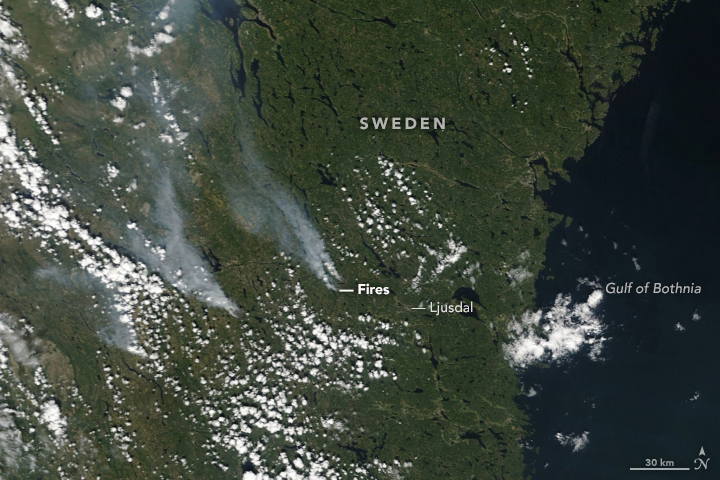 Scorching, dry conditions are spurring historic wildfire outbreaks across Sweden this summer. On July 19, 2018, more than 40 fires dotted the country, causing firefighters to scramble and hundreds of people to evacuate their homes. The Swedish government called for international assistance—the second time this summer—and received firefighting airplanes and helicopters from Italy and Norway.
The natural-color image above was acquired by the Moderate Resolution Imaging Spectroradiometer (MODIS) on NASA's Terra satellite on July 17, 2018. The largest fire was near Ljusdal, although Kårböle, Jämtland, and several towns have been evacuated due to fires. No fatalities have been reported so far. The Copernicus Atmosphere Monitoring Service forecast model shows an increase in fine particulate pollution above the fire-stricken areas this week.
The intense fires are unusual for this time of the year, as Sweden's summers are normally mild. In May 2018, several cities experienced their hottest May days in 150 years of recordkeeping. Temperatures cooled off in June, but returned to record highs in July, when Sweden's national weather agency issued a warning for extremely high temperatures. At the same time, Sweden has experienced very low rainfall this summer.
This temperature anomaly map is based on data from MODIS on NASA's Terra satellite. It shows land surface temperatures from July 1-15, 2018, compared to the 2000–2015 average for the same two-week period. Red colors depict areas that were hotter than average; blues were colder than average. White pixels were normal, and gray pixels did not have enough data, most likely due to excessive cloud cover. Note that it depicts land surface temperatures, not air temperatures. Land surface temperatures reflect how hot the surface of the Earth would feel to the touch in a particular location. They can sometimes be significantly hotter or cooler than air temperatures. (To learn more about land surface temperatures and air temperatures, read: Where is the Hottest Place on Earth?)
The hot, dry conditions helped create the severe fire risk for the Sweden. As of July 20, Sweden has over 10,000 hectares of burned land, which is nearly 24 times higher than the amount of burned land averaged over 2008-2017, according to the Copernicus Emergency Management Service.
High temperatures and wildfires are also hitting neighboring countries and as far north as the Arctic circle. All-time high temperatures were hit in 14 locations in Norway, including Troms county where temperatures hit 33°C (92°F), as the southern part of the country was peppered with fires in 100 localities last week. Northern Finland saw temperatures of 33°C (91°F) on July 18, while wildfires also spread near the border of Finland and Russia.
The natural-color image below shows fires near the Russia-Finland border. The image was captured by MODIS on NASA's Aqua satellite on July 20, 2018.
NASA Earth Observatory images by Lauren Dauphin and Joshua Stevens, using MODIS data from LANCE/EOSDIS Rapid Response and the Level 1 and Atmospheres Active Distribution System (LAADS). Story by Kasha Patel.