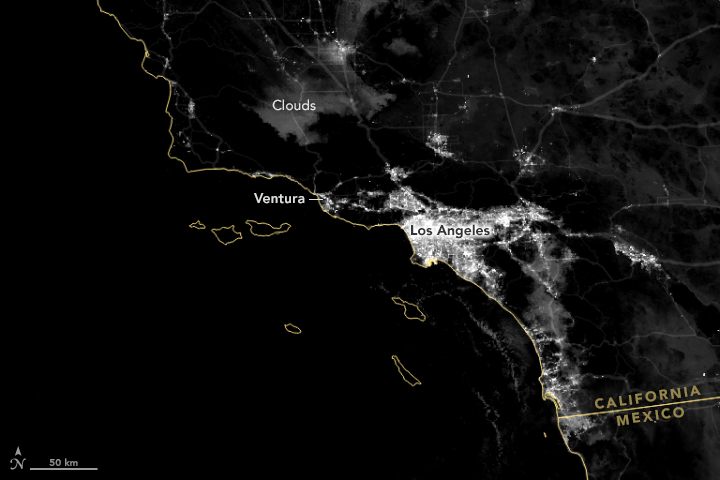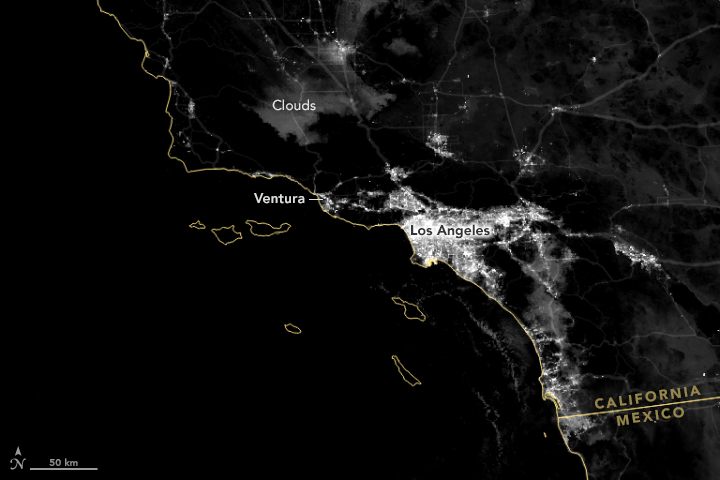 Powerful Santa Ana winds fueled a fast-moving fire that swept into Ventura, California, on December 5, 2017. After burning for roughly one day, the blaze had charred 50,000 acres (20,000 hectares), destroyed at least 150 structures, and forced more than 27,000 people to evacuate.
The Visible Infrared Imaging Radiometer Suite (VIIRS) on the Suomi NPP satellite captured this nighttime image of the fire at 1:05 a.m. local time (09:05 Universal Time) on December 5, 2017. For comparison, the second image was acquired the night before at 1:25 a.m. local time (09:25 Universal Time).
Turn on the image-comparison tool to see the fires brighten the rural landscape north of Ventura. The fire was imaged by a special "day-night band" that detects light in a range of wavelengths from green to near-infrared and uses light intensification to detect dim signals.
NASA Earth Observatory images by Joshua Stevens using VIIRS day-night band data from the Suomi National Polar-orbiting Partnership. Caption by Adam Voiland.