This page contains archived content and is no longer being updated. At the time of publication, it represented the best available science.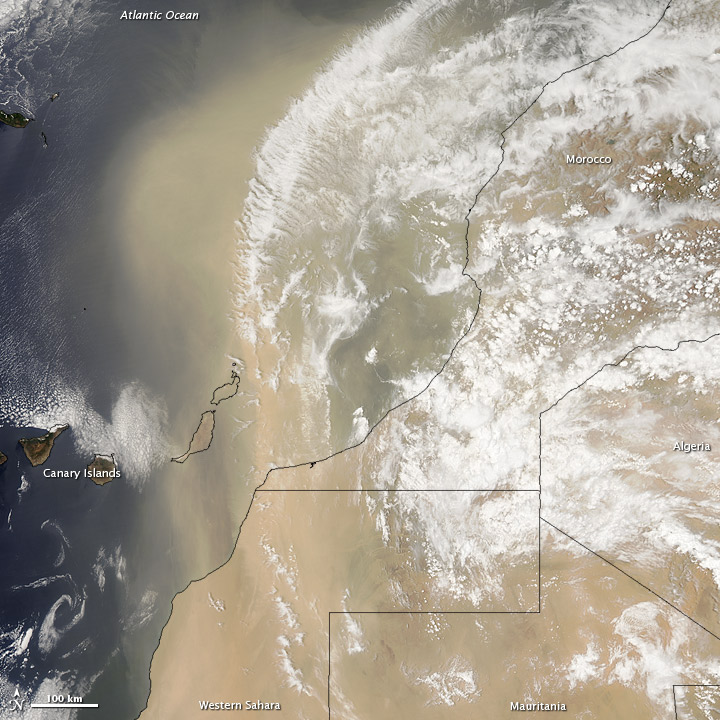 The dust that blew through the Sahara Desert the day before continued its journey on June 24, 2012. The Moderate Resolution Imaging Spectroradiometer (MODIS) on NASA's Aqua satellite captured this natural-color image on June 24.
The dust blew off the coast of Morocco and over the Atlantic Ocean. Off the coast, the dust formed an arc that bent eastward, in the direction of the Mediterranean Sea. Immediately off the coast of Morocco, just north of the border with Western Sahara, the dust was thick enough to completely hide the water surface below. Dust also blew over the easternmost Canary Islands.
Over Morocco and the Atlantic Ocean, clouds hovered over the dust, partially blocking the satellite sensor's view of the plumes. The clouds may have been associated with the same weather system that stirred the dust.
NASA image courtesy MODIS Rapid Response Team, Goddard Space Flight Center. Caption by Michon Scott.