This page contains archived content and is no longer being updated. At the time of publication, it represented the best available science.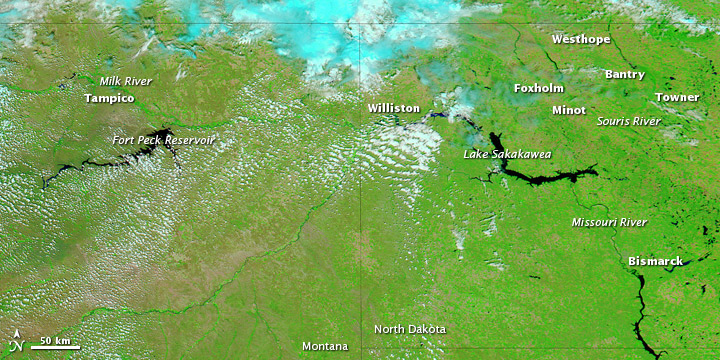 River levels remained high in Montana and North Dakota on June 5 and 6, 2011. On June 6, the Advanced Hydrological Prediction Service (AHPS) of the U.S. National Weather Service reported varying degrees of flooding along the Missouri, Milk, and Souris Rivers.
The Moderate Resolution Imaging Spectroradiometer (MODIS) on NASA's Aqua satellite captured the top image on June 5, 2011. The bottom image is from June 16, 2010. Both images use a combination of visible and infrared light to increase contrast between water and land. Water is navy. Vegetation is green. Bare ground is brown. Clouds appear in varying shades of blue-green.
Some of the biggest differences appear along the Souris and Milk Rivers. The water in these channels largely disappears from view in 2010, but is clearly visible one year later. Water also appears higher along the Missouri River near Williston and Bismarck.
According to the AHPS, moderate flooding occurred along the Milk River near Tampico. Along the Missouri River, major flooding occurred near Williston, and minor flooding occurred near Bismarck. The Souris River was at major flood stage near Westhope, Foxholm, Towner, and Bantry, and at moderate flood stage near Minot.
NASA images courtesy MODIS Rapid Response Team, Goddard Space Flight Center. Caption by Michon Scott.