This page contains archived content and is no longer being updated. At the time of publication, it represented the best available science.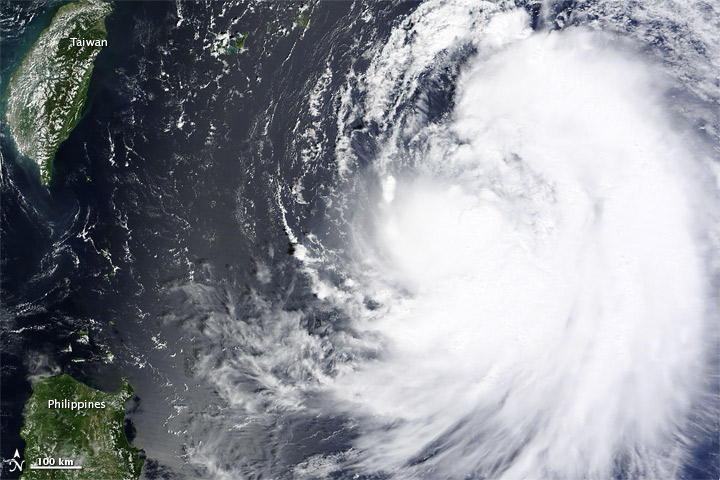 Fanapi strengthened from a tropical depression to a tropical storm on September 15, 2010. The following day, Fanapi strengthened into a typhoon. At 11:00 p.m. Taiwan time (15:00 UTC) on September 16, 2010, the U.S. Navy's Joint Typhoon Warning Center (JTWC) reported that Fanapi was located roughly 270 nautical miles (500 kilometers) south of Okinawa, Japan. The storm had maximum sustained winds of 65 knots (120 kilometers per hour) with gusts up to 80 knots (150 kilometers per hour).
The Moderate Resolution Imaging Spectroradiometer (MODIS) on NASA's Terra satellite captured this natural-color image of Fanapi at 10:30 a.m. Taiwan time (2:30 UTC) on September 16, 2010. Fanapi, not yet a typhoon, spans hundreds of kilometers east of Taiwan and the northern Philippines. The storm sports the comma shape characteristic of tropical storms, although it lacks a distinct eye. The JTWC forecast that Fanapi would continue its general westward track toward Taiwan and China.
NASA image courtesy MODIS Rapid Response Team at NASA GSFC. Caption by Michon Scott.