This page contains archived content and is no longer being updated. At the time of publication, it represented the best available science.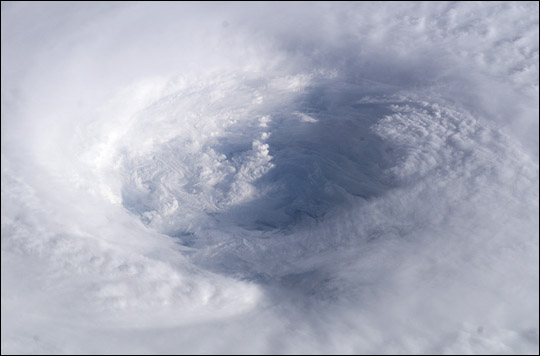 Astronaut Ed Lu snapped this photo of the eye of Hurricane Isabel from the International Space Station on September 13, 2003 at 11:18 UTC. At the time, Isabel was located about 450 miles northeast of Puerto Rico. It had dropped to a Category 4 hurricane on the Saffir-Simpson Hurricane Scale, packing winds of 150 miles per hour with gusts up to 184 miles per hour.
After originating in the eastern Atlantic west of the Cape Verde Islands, Isabel became the second major hurricane of the 2003 Atlantic season when it was declared a Category 3 storm by the National Hurricane Center on September 8. Over the next four days, Isabel strengthened into an extremely powerful Category 5 hurricane with winds estimated at 160 mph before dropping to a Category 4 hurricane on September 13.
This photo shows the structure of Isabel's eyewall. The image, ISS007-E-14745, was taken with a 180mm lens on a digital camera.
Image courtesy of Mike Trenchard, Earth Sciences & Image Analysis Laboratory, Johnson Space Center.