This page contains archived content and is no longer being updated. At the time of publication, it represented the best available science.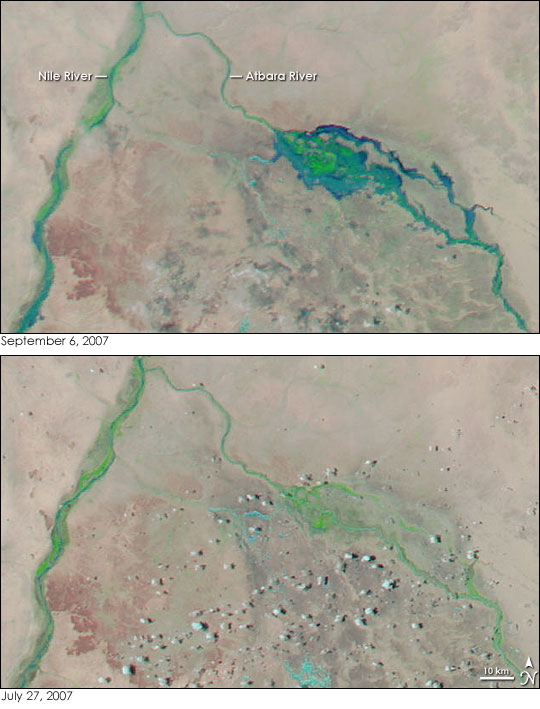 The rainy season of 2007 brought what the Sudanese government called the worst floods in living memory to Sudan. From the start of the rains in early July to September 4, 122 people died and at least 200,000 were made homeless in floods throughout the country, reported Reuters. With the September end of the rainy season in sight, Sudan was still flooded on September 6, 2007, when the Moderate Resolution Imaging Spectroradiometer (MODIS) on NASA's Aqua satellite captured the top image. The image shows the confluence of the Atbara and Nile Rivers in northeastern Sudan. The lower image, taken on July 27, shows the region before the two rivers flooded, though flooding in other parts of Sudan are visible in the large version of the image.
Both images were made with a combination of visible and infrared light to increase the contrast between water and earth. Water is dark blue or black, sediment-filled water or wet ground is light blue, clouds are pale turquoise and white, and the bare or sparsely vegetated Nubian Desert is tan-pink. Strips of vegetation along the banks of the rivers are bright green.
On September 6, the Atbara River had spread wide over its banks. The two branches of the river in the center of the image were so flooded that the two channels merged in a broad, shallow lake of muddy water. On the left side of the image, the Nile River is also wider than it was in July. The wider view provided in the large image from September 6 reveals that the Nile and its tributaries, the Blue and White Nile Rivers, were all swollen.
NASA images courtesy the MODIS Rapid Response Team at NASA GSFC, which provides daily images of Sudan.