This page contains archived content and is no longer being updated. At the time of publication, it represented the best available science.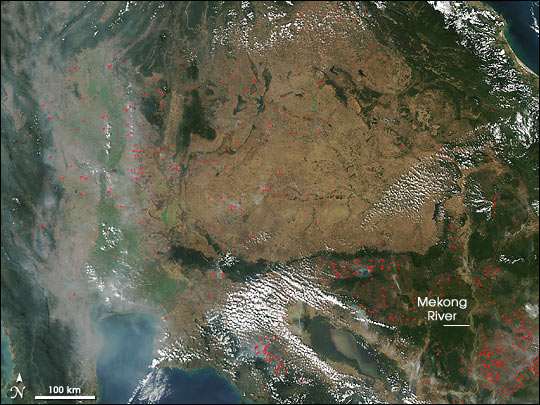 Fires were burning in a variety of locations and types of vegetation in Southeast Asia when this image was captured on December 21, 2004, by the Moderate Resolution Imaging Spectroradiometer (MODIS) on NASA's Aqua satellite. In the center of the scene, scattered fires are burning in Thailand's central cropland region. At left, smoke fills a low-lying valley that is dominated by irrigated rice paddies. The green of the irrigated crops contrasts with the tan of the other crop regions; this time of year, the climate is dominated by the relatively cool and dry conditions brought on by the northeast monsoon.
In the lower right, the Mekong River shows up prominently as it flows southward through some of the region's remaining tropical forests. The Mekong River is to Southeast Asia what the Colorado River is to the U.S. West. Many countries along its path—including China, Laos, Thailand, Cambodia, and Vietnam—depend on the river for irrigation and drinking water. Also like the Colorado River, increasing demands for water and the dams and other infrastructure needed to supply it disrupt the natural flood cycle on the Mekong. The diruption can create environmental problems that become human problems, such as a decline in fish stocks in places where fish is the major source of protein in people''s diets.
The high-resolution image provided above is 500 meters per pixel. The MODIS Rapid Response System provides this image at
additional resolutions.
NASA image courtesy the MODIS Rapid Response Team, NASA-Goddard Space Flight Center