This page contains archived content and is no longer being updated. At the time of publication, it represented the best available science.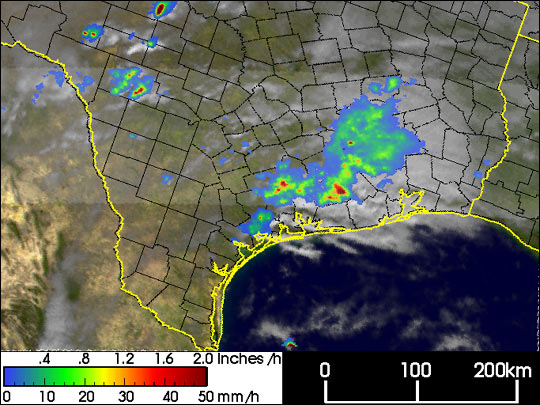 An advancing frontal system has brought heavy rains to the Mississippi Valley region and the northern Gulf Coast. Low pressure over the central plains tapped into abundant gulf moisture from the Gulf of Mexico to produce numerous storms ahead of an advancing cold front. Deep-layer southerly winds in front of the low transported warm, moist air up from the Gulf northward into the Mississippi Valley. Storms that formed within this moist air ahead of the cold front deposited significant amounts of rain from eastern Texas up through the Mississippi Valley and over to the Florida panhandle. The continuous regeneration of storms all the way down into the Gulf of Mexico combined with their movement to the north led to an effect known as "training" whereby several different storms pass over the same area. This can lead to significant rainfall accumulations.
The Tropical Rainfall Measuring Mission (TRMM) satellite took this image of a cluster of storms as they were approaching the Houston area. The image was taken at 15:50 UTC (9:50 am CST) on 17 November 2003, and it shows rainfall rates from the TRMM Precipitation Radar (PR) in the inner swath and the TRMM Microwave Imager (TMI) in the outer swath overlaid on visible data from the TRMM Visible Infrared Scanner (VIRS) in white. Areas of heavy rainfall (red areas) associated with convective storms are embedded within areas of moderate (green areas) to light rain (blue areas). These storms spawned up to 21 tornadoes and flooded the Houston area, causing 25 to 30 million dollars worth of damage, according to news reports. One person drowned in the high waters.
TRMM is a joint mission between NASA and the Japanese space agency NASDA.
Images produced by Hal Pierce (SSAI/NASA GSFC) and caption by Steve Lang (SSAI/NASA GSFC)