Some features of this site are not compatible with your browser. Install Opera Mini to better experience this site.
This page contains archived content and is no longer being updated. At the time of publication, it represented the best available science.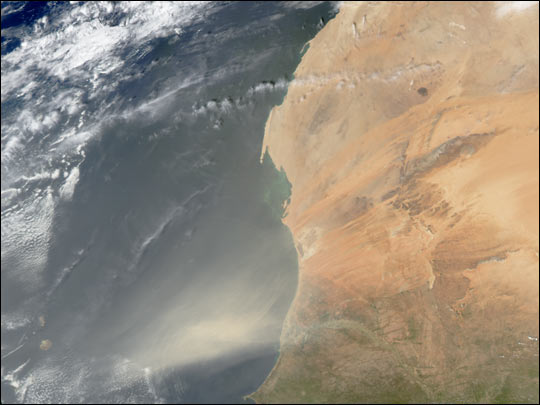 This scene shows Saharan Desert dust blowing westward over the Atlantic off the West African coast toward the Cape Verde Islands. Such plumes have appeared intermittently in satellite images since October 3. This true-color image was acquired on October 11, 2003, by the Moderate Resolution Imaging Spectroradiometer (MODIS) aboard NASA's Terra satellite. The high resolution image provided above is at MODIS's maximum spatial resolution of 250 meters per pixel.
Image courtesy Jesse Allen, based on data from the MODIS Rapid Response Team at NASA GSFC