This page contains archived content and is no longer being updated. At the time of publication, it represented the best available science.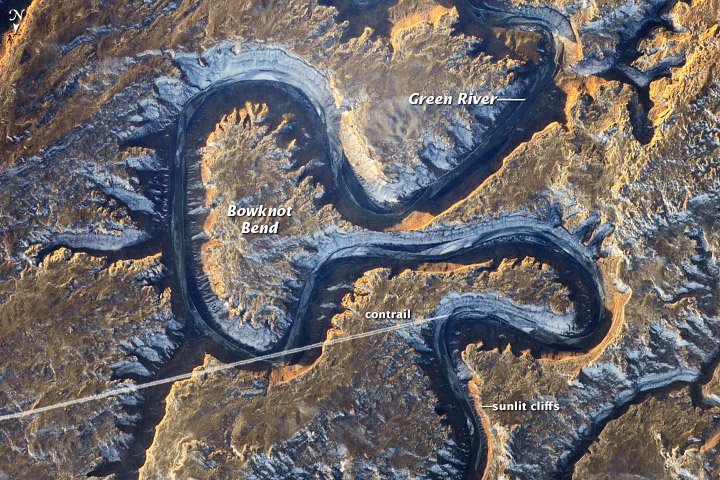 This sector of the Green River canyon in eastern Utah is known as Bowknot Bend because of the way the river doubles back on itself. The loop carries river rafters 14.5 kilometers (9 miles) before bringing them back to nearly the same point they started from—though on the other side of a low, narrow saddle (image center).
In this photograph taken by an astronaut on the International Space Station, the Green River appears dark because it lies in deep shadow, 300 meters (1,000 feet) below the surrounding landscape. The yellow-tinged cliffs that face the rising sun give a sense of the steep canyon walls. The straight white line across the scene is the contrail from a jet liner that passed over Bowknot Bend. Note that north is to the bottom of the image.
The reason for the tight bends in the Green River is the same as it is for the Mississippi: river courses often wind over time when they flow across a bed of relatively soft sediment in a floodplain. Geologists assume that the Green River, before its present canyon phase, once snaked across a wide valley on a bed of its own sediment and made a series of striking meander bends. Vertical uplift of the entire landscape—by deep-seated tectonic forces related to the growth of the Rocky Mountains—caused the Green River to erode downwards into the hard rocks under the valley. In the process, the present vertical-sided canyon was formed, preserving the tight loops reminiscent of an earlier time.
Bowknot was named by geologist John Wesley Powell in 1869 during one of his famous explorations of the rivers in the American West. The Green River flows south (toward the top of this image) and joins the Colorado River downstream. The combined flow of these rivers was responsible for cutting the Grand Canyon, some 325 kilometers (200 miles) away from Bowknot.
Astronaut photograph ISS038-E-35416 was acquired on January 22, 2014, with a Nikon D3X digital camera using a 1000 millimeter lens, and is provided by the ISS Crew Earth Observations Facility and the Earth Science and Remote Sensing Unit, Johnson Space Center. The image was taken by the Expedition 38 crew. It has been cropped and enhanced to improve contrast, and lens artifacts have been removed. The International Space Station Program supports the laboratory as part of the ISS National Lab to help astronauts take pictures of Earth that will be of the greatest value to scientists and the public, and to make those images freely available on the Internet. Additional images taken by astronauts and cosmonauts can be viewed at the NASA/JSC Gateway to Astronaut Photography of Earth. Caption by M. Justin Wilkinson, Jacobs at NASA-JSC.