This page contains archived content and is no longer being updated. At the time of publication, it represented the best available science. However, more recent observations and studies may have rendered some content obsolete.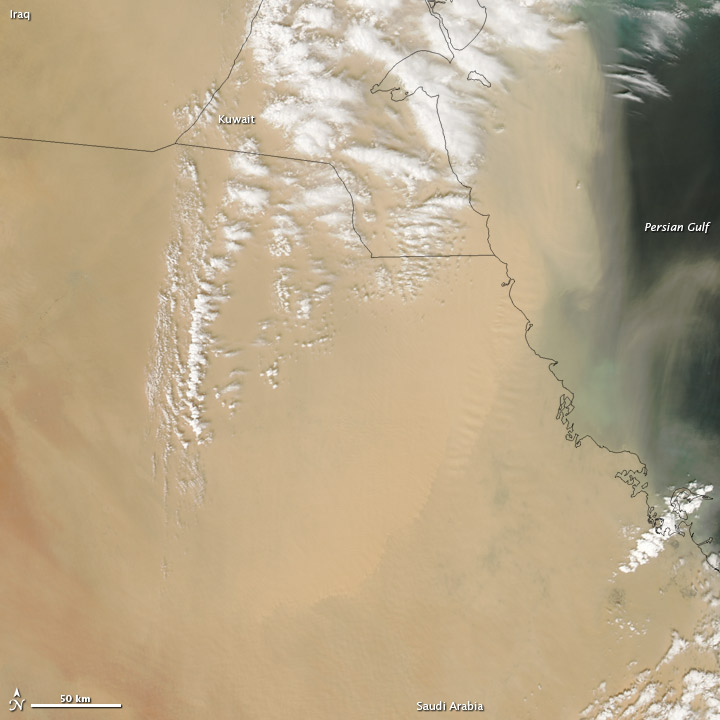 A thick veil of dust spanned hundreds of kilometers over parts of the Arabian Peninsula and the Persian Gulf on April 5, 2013. The Moderate Resolution Imaging Spectroradiometer (MODIS) on NASA's Aqua satellite acquired this natural-color image the same day.
Source points for this dust storm are not obvious in this image, but the Arabian Peninsula is rich in fine sediments from dry riverbeds and lakebeds, and sand seas. Dust storms are some of the most frequent natural hazards for Iraq, Kuwait, and Saudi Arabia. On April 5, clouds hovered over the dust, especially over Kuwait. The clouds might have been associated with a weather front that stirred the dust.
NASA image by Jeff Schmaltz, LANCE/EOSDIS MODIS Rapid Response. Caption by Michon Scott.