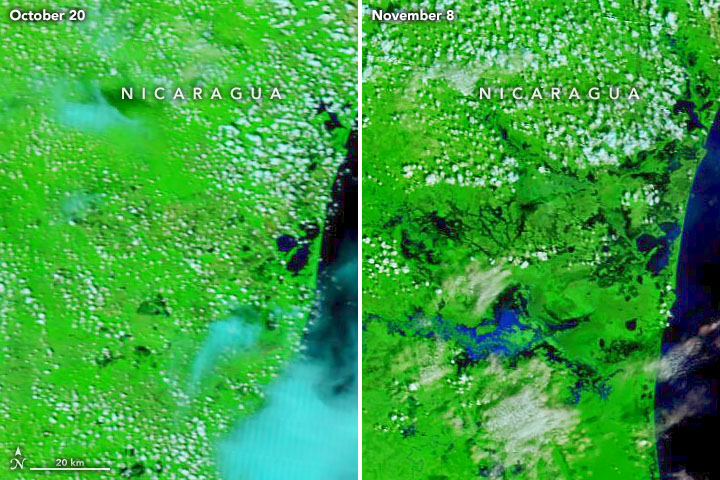 On November 3, 2020, Hurricane Eta crashed into Central America with winds upward of 140 miles (225 kilometers) per hour—making it one of the most powerful storms to hit the region in years. Within 24 hours, the category 4 storm dropped 100 millimeters (4 inches) of rain over much of northeast Nicaragua, 260 millimeters (10 inches) in northern Honduras, and 300 millimeters (12 inches) on the eastern coast of Guatemala. The heavy rain caused flooding and triggered landslides that killed more than 100 people across three countries.
The images show northeast Nicaragua on October 20 (right) and November 8, 2020 (left). These false-color images, acquired with the Moderate Resolution Imaging Spectroradiometer (MODIS) on NASA's Terra satellite, use a combination of infrared and visible light (bands 7-2-1) to make it easier to distinguish water from land, particularly in flooded areas. Water appears navy blue and black; clouds are white or cyan; and vegetation is bright green.
NASA Earth Observatory images by Joshua Stevens, using MODIS data from NASA EOSDIS/LANCE and GIBS/Worldview. Story by Kasha Patel.