This page contains archived content and is no longer being updated. At the time of publication, it represented the best available science.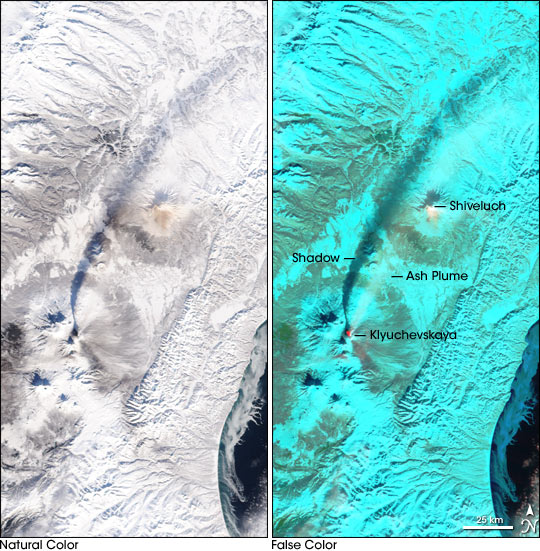 Klyuchevskaya is the highest and most active of the numerous volcanoes on northeastern Russia�s Kamchatka Peninsula. Throughout February 2005, the volcano has been erupting moderately off and on, emitting plumes of steam and ash that have darkened the snow-covered slopes. This pair of images shows Klyuchevskaya on February 15, 2005, emitting a long, pale ash plume to the north. The plume casts a dark, curving shadow on the terrain below. The image at left is in natural color, similar to a digital photo, while the image at right uses additional infrared observations to help distinguish snow (bright blue), vegetation (green), and the ash plume (white). On February 21, a lava flow melted a large part of the Ehrman glacier, on the summit of the volcano.
The images were made from data collected by the Moderate Resolution Imaging Spectroradiometer
(MODIS)
on NASA�s
Terra
satellite.
NASA image created by Jesse Allen, Earth Observatory, using data obtained from the MODIS Rapid Response team.