This page contains archived content and is no longer being updated. At the time of publication, it represented the best available science.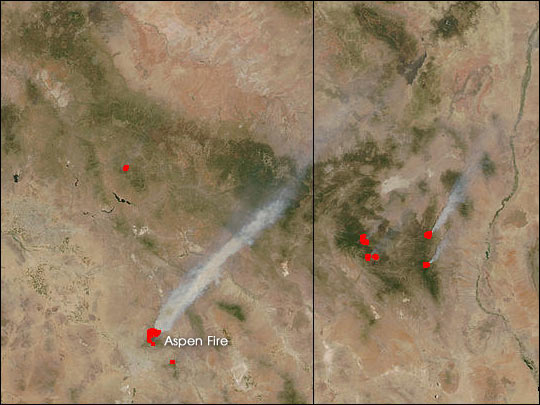 The Aspen Fire northeast of Tucson, Arizona, continues to grow. As of the afternoon of June 23, the fire was 12, 400 acres and only 5 percent contained. This Moderate Resolution Imaging Spectroradiometer (MODIS) from the Aqua satellite on June 23, 2003, shows Arizona (left) and New Mexico (right) and several large fires burning across the two states. The largest plume of smoke is coming from the Aspen Fire, but fires in New Mexico west of the Rio Grande (running along the right edge) are also smokier than on previous days (see other images in this series.)
The high-resolution image provided above is 500 meters per pixel. The MODIS Rapid Response System provides this image at MODIS? maximum spatial resolution of 250 meters.
Image courtesy Jacques Descloitres, MODIS Rapid Response Team at NASA-GSFC