Introduction
Since the 1960s, NASA has developed polar-orbiting operational environmental satellites for the National Oceanic and Atmospheric Administration (NOAA). NOAA-M, the latest NOAA spacecraft, is scheduled for launch June 24, 2002.
The NOAA satellites carry instruments that observe our Earth and provide global data for NOAA's operational user requirements including short-, medium-, and long-range weather forecasts. The operational system consists of two polar-orbiting satellites. One operates in an afternoon orbit and the other in a morning orbit with equator crossing times chosen to maximize the usefulness of the data for a variety of applications.
These spacecraft monitor the entire Earth, providing atmospheric measurements of temperature, humidity, ozone and cloud images as they track weather patterns that affect the global weather and climate. The satellites send millions of global measurements daily to NOAA's Command and Data Acquisition stations in Fairbanks, Alaska, and Wallops Island, Virginia, and to its data processing center in Suitland, Maryland, adding valuable information to forecasting models, especially for ocean areas, where conventional groundbased data are lacking.
Currently, NOAA has two operational polar orbiters: NOAA-16, launched in September 2000, into a 2:00 p.m. local solar time orbit and NOAA-15, launched in May 1998, into a 7:30 a.m. local solar time orbit. NOAAM will replace NOAA-15 in a 10:00 a.m. local solar time orbit. The new 10:00 a.m. orbit will allow NOAA-M to carry the same instruments as the 2:00 p.m. satellite (both cross the equator two hours away from noon), and allows for the generation of the same product suite from each orbit.
NOAA-M will be renamed NOAA-17 after achieving orbit. The satellites receive a letter designation while under construction on the ground and are then renamed with a numerical designation after launch. This is done because the satellites are built in alphabetical order but are not necessarily launched in this same order. Therefore, to avoid confusion, they are numbered upon reaching orbit.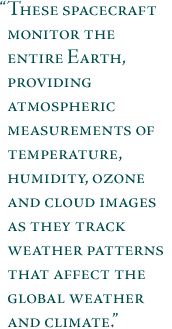 NOAA-M
Introduction
The NASA-NOAA Partnership
Spacecraft Design and Orbit Command
The NOAA POES System in Weather Forecasting and the Future
Related Releases
NOAA-17 (M) Environmental Satellite Successfully Launched
NASA, NOAA To Launch New Environmental Satellite
NOAA-M/TITAN II Rocket Ready for Launch June 24