Upon hearing of the disaster, NASA's Terra satellite team implemented an expedited data request for Advanced Spaceborne Thermal Emission and Reflection Radiometer (ASTER) imagery of the event. (NASA has a protocol for making expedited ASTER data requests for gathering helpful intelligence about natural disaster events.) The Terra ASTER instrument acquired a mostly cloud-free image on May 30, which shows the dramatic extent of the flooding, particularly when compared with an earlier ASTER image acquired on October 26, 2003, during normal conditions.
Visual inspection of the ASTER before and after images indicates that debris-carrying flows of floodwater on the north flank of the Massif de la Salle originated as confined discharges within steep-walled channels of bedrock inside canyons. As the floodwaters flowed out onto the relatively flatter lands and broader channels of the alluvial plain below they spread out, wiping out riverside settlements in Haiti and the adjacent part of the Dominican Republic. The resulting deposits of debris appear as light-colored areas along rivers in the ASTER image. Comparison of the imagery with a shaded version of the SRTM data highlights the floodplain in the vicinity of the town of Jimani as a light-colored depression, indicating that large sections of the town are situated in the floodplain. Detailed analysis of the ASTER before and after images reveals a wide gravel deposit covering large sections of the town, completely resurfacing the floodplain.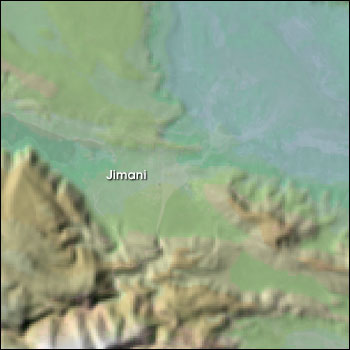 The town of Fond Verrettes lies upstream of the town of Jimani along the same river system. Fond Verrettes also was severely damaged by flooding and landmass movements.
On the other side of the massif, ponding of water created a series of lakes, one of which submerged the town of Mapou. Note the extensive landslide and mudflow scars, where receding floodwaters left deposits of gravel, indicated in white. At least seven lakes have appeared where no lakes existed before. Classification of the lake deposits and gravel/mudflow/landslide scars reveals the extent to which the flooding modified the land surface. Mapou lies submerged in the southeastern part of the largest lake.