Few books have altered the course of history—Silent Spring was one of them. The tidal wave of protest that followed its publication in 1962 forced the banning of the pesticide DDT and resulted in revolutionary changes in public perception about our air, land, and water. It helped launch the modern environmental movement. Rachel Carson's passionate plea for restraint, common sense, and stewardship resulted in fundamental changes not only in North America, but also throughout the world. So profound was the impact of her book that it has been compared with Uncle Tom's Cabin, by Harriet Beecher Stowe, and On the Origin of Species, by Charles Darwin. Time magazine recently chose Rachel Carson as one of the most influential thinkers of the 20th century.
Rachel Carson was born in 1907 in Springdale, Pennsylvania—a long way from the coast. "Amongst my earliest memories," she wrote in an autobiographical sketch, "are two things. A feeling of absolute fascination for every thing related to the ocean, and a determination that I would someday be a writer."
Carson chose English as her major at Pennsylvania College for Women (now Chatam College), and she submitted poetry to magazines, although none was published. In her junior year, she switched her major to zoology. Time would reveal that Carson's literary and scientific aspirations would serve a common sense.
After graduating cum laude from John's Hopkins with a masters's degree in 1932, Carson taught zoology at the University of Maryland while she continued her studies in the summer at the Marine Biological Laboratory in Woods Hole, Massachusetts. It was there she first saw—and fell in love with—the sea. Three years later, she began writing science radio scripts for the U.S. Bureau of Fisheries. This soon led to a full-time job as an aquatic biologist. Carson was only the second woman hired by the bureau for a nonsecretarial position.
To supplement her income, Carson wrote newspaper articles on marine zoology. She developed a strong lyrical prose, and an editor urged her to submit her work to The Atlantic Monthly, which published her article, "Undersea" in 1937. Her first piece in a national magazine, "Undersea" was to set the theme and tone for her later work and was the genesis of her first book, Under the Sea Wind (1941). Carson went on to publish two more books about the sea, The Sea Around Us, which won the 1952 National Book Award for nonfiction, and The Edge of the Sea (1955). Her work was widely praised for its accessibility, beauty of language and scientific accuracy.
In 1952, Rachel Carson was finally able to leave her job to concentrate full-time on her writing. The success of her books brought a new financial independence and allowed her to fulfill her long-held dream of building a cottage on the coast of Maine. She purchased one-and-a half acres on Southport Island at the tip of Boothbay peninsula and built a cottage with windows facing the sea. It was a perspective she found inspiring, because, as she recorded in her personal notes: "Even in the vast and mysterious reaches of the sea we are brought back to the fundamental truth that nothing lives to itself."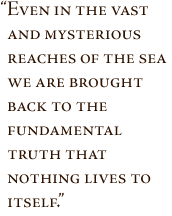 Rachel Carson
Introduction
Silent Spring
Quiet Courage