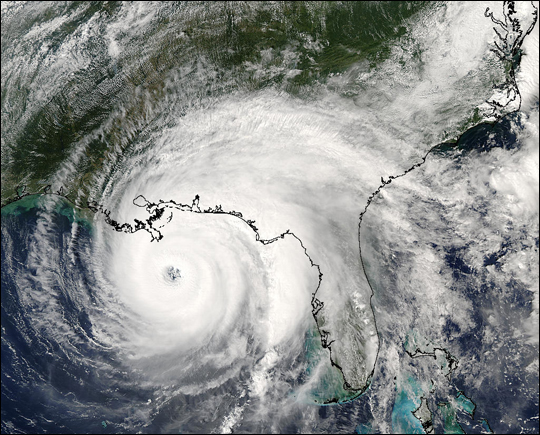 acquired September 15, 2004
download
large image (3 MB, JPEG, 4100x3300)
The MODIS instrument flying aboard NASA's Aqua satellite captured this true-color image of Hurricane Ivan on September 15, 2004 at 18:50 UTC (2:50 PM EDT). At the time this image was taken Ivan was located approximately 170 miles south of the Alabama coastline and was moving towards the north at 14 mph. Ivan continues as an extremely dangerous Category 4 storm with maximum sustained winds near 135 mph with higher gusts. The National Hurricane Center is expecting Ivan to make landfall early Thursday morning as a major hurricane (Category 3 or higher).
The MODIS Rapid Response System provides this image at additional resolutions and formats.
NASA image courtesy Jacques Descloitres, MODIS Land Rapid Response Team at NASA GSFC.
Instrument(s):

Aqua - MODIS

September 10, 2004
September 16, 2004
September 13, 2004
September 9, 2004
September 5, 2004