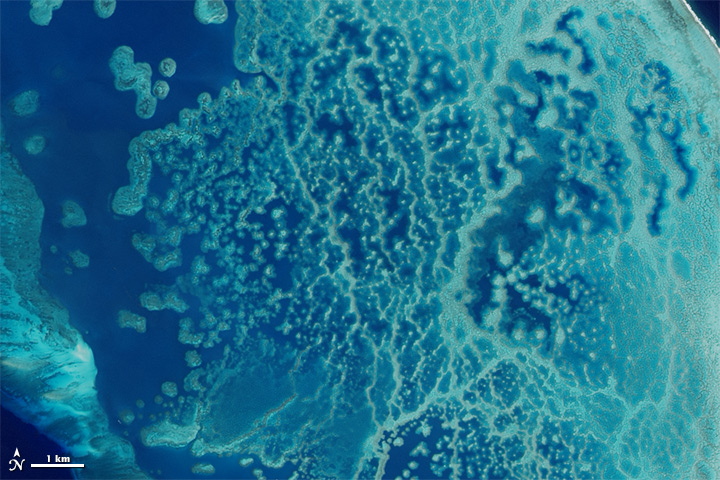 acquired November 5, 2014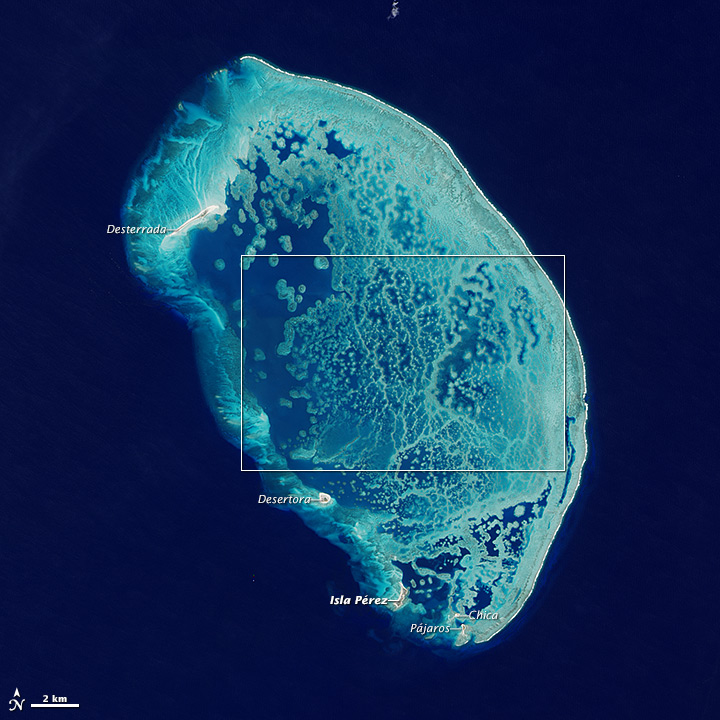 acquired November 5, 2014
download
large image (2 MB, JPEG, 2000x2000)
acquired November 5, 2014
download
GeoTIFF file (6 MB, TIFF)
Editor's Note: Today's caption is the answer to Earth Observatory's January 2015 image puzzler .
About 100 kilometers (60 miles) north of Progresso, Mexico, five small islands stand amidst the largest coral structure in the southern Gulf of Mexico. These images of Arrecife Alacranes—Spanish for "Scorpion Reef,"—were acquired on November 5, 2014, by the Operational Land Imager (OLI) on Landsat 8. The top image shows the central part of the reef, while the bottom image shows the rest of the formation.
For thousands of years, various species of coral have grown together to build the extensive reef. In addition to corals, the reef is composed of remains from algae, foraminifera, and molluscs. The area was designated a national park of Mexico in 1994 and a UNESCO biosphere reserve in 2006.
Isla Pérez, the island in the bottom-left corner, is home to several historic monuments (including a lighthouse built in 1900) and a small population of humans. The island was once covered by the flowering Sesuviam plant and Sporobolus grass, but the landscape is now almost completely covered by the flowering Suriana plant.
References and Further Reading

Ecological Sciences for Sustainable Development, Main Characteristics of Biosphere Reserves. Accessed January 30, 2015.
GulfBase.org, Arrecife Alacrán. Accessed January 30, 2015.
Instituto Nacional de Ecologia, National Marine Park, Arrecife Alacranes (spanish). Accessed January 30, 2015.
. Accessed January 30, 2015.
UNESCO – MAB Biosphere Reserves Directory, Biosphere Reserve Information, Arrecife Alacranes. Accessed January 30, 2015.
Yucatan Today, Alacranes Reef. Accessed January 30, 2015.
NASA Earth Observatory image by Jesse Allen, using Landsat data from the U.S. Geological Survey. Caption by Kathryn Hansen.
Instrument(s):

Landsat 8 - OLI
October 18, 2011
July 21, 2011

May 22, 2003