This page contains archived content and is no longer being updated. At the time of publication, it represented the best available science. However, more recent observations and studies may have rendered some content obsolete.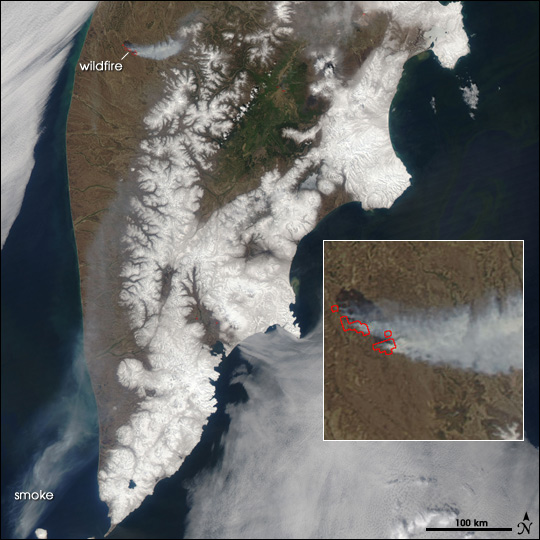 The Sredinnyy Mountain Range runs down the spine of the Kamchatka Peninsula. The volcanic peninsula dips like a dagger into the icy water of the Bering Sea to the east and the Sea of Okhotsk to the west. Dozens of volcanoes are scattered along the mountain range, mostly on the eastern side.
In this Moderate Resolution Imaging Spectroradiometer (MODIS) image from May 28, 2005, a large forest fire (marked in red) was burning on the western side of the peninsula. The smoke from the blaze stretched southward several hundred kilometers and spread into the Sea of Okhotsk. This is one of several large blazes burning in Russia's Far East. The high-resolution image shows additional fires on the peninsula.
Image courtesy Jeff Schmaltz, MODIS Rapid Response Team, NASA-GSFC