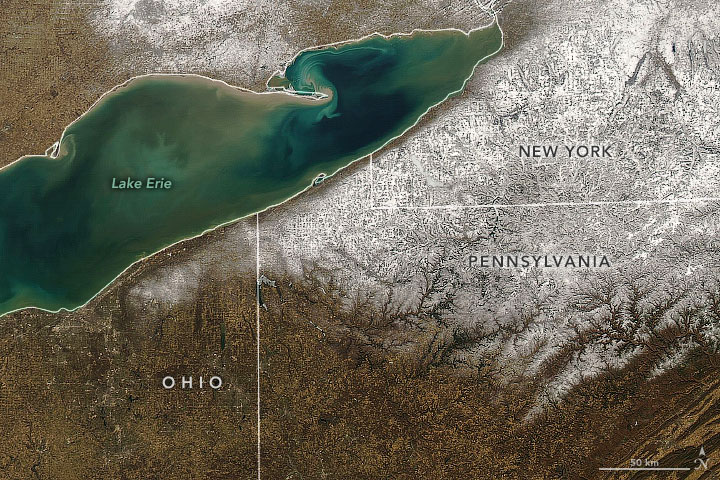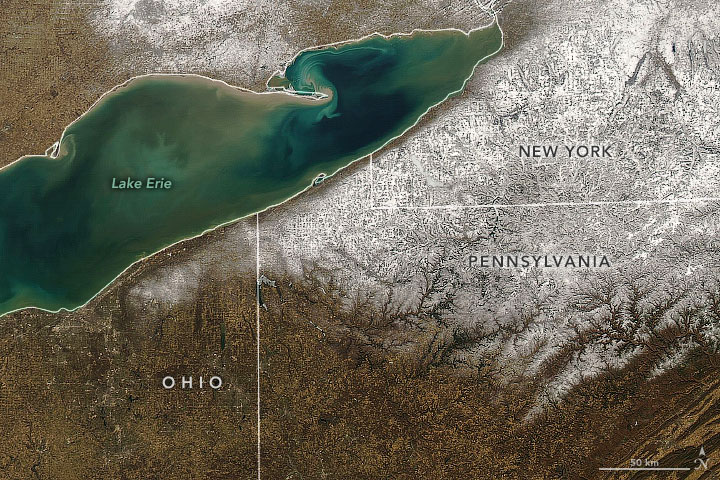 Spring is already near, but for many major cities in the Northeast U.S. winter never seemed to arrive. New York City, Philadelphia, Baltimore, and Washington, D.C. all had virtually snowless Februarys to cap off an unusually warm winter across the region.
Still, winter showed up late in February in some areas, particularly those downwind of the Great Lakes. On February 27-29, lake-effect snow buried upstate New York. By the time the flakes stopped falling, storms had dropped more than 2 feet (0.6 meters) of snow on several towns, including Carthage and Croghan. With gale-force winds and ice accompanying the snow, some New Yorkers woke up to find their homes encased in thick sheets of ice.
Writing for Weather Underground, meteorologist Tom Niziol detailed a few of the meteorological ingredients for the extreme snowfall: plenty of atmospheric moisture, lots of cool air, and the right temperature and moisture at various levels of the atmosphere for snowflakes to form easily.
The pair of natural-color satellite images at the top of the page were acquired on February 22 (left) and March 1, 2020 (right). While snow covered sizable parts of upstate New York and northwestern Pennsylvania on March 1, do not expect it to stay for long. Forecasters say that temperatures should rise well above freezing in many parts of the Northeast this week as a warm front moves in.
NASA Earth Observatory images by Joshua Stevens, using MODIS data from NASA EOSDIS/LANCE and GIBS/Worldview. Story by Adam Voiland.