This page contains archived content and is no longer being updated. At the time of publication, it represented the best available science.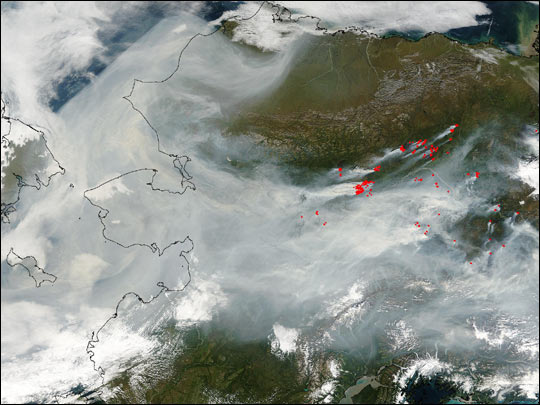 Dense gray smoke blanketed Alaska and the Bering Strait on August 21, 2004, when the Moderate Resolution Imaging Spectroradiometer (MODIS) on NASA's Terra satellite captured this image. The smoke is pouring from widespread wildfires, which have been burning in Alaska's interior and northern Canada since mid-June. On August 21, when this image was acquired, the Environmental Protection Agency had rated the air quality as hazardous for parts of Alaska.
The high-resolution image provided above has a resolution of 500 meters per pixel. The image is available in additional resolutions, including MODIS' maximum resolution of 250 meters per pixel.
NASA image courtesy Jacques Descloitres, MODIS Rapid Response Team at NASA GSFC