This page contains archived content and is no longer being updated. At the time of publication, it represented the best available science.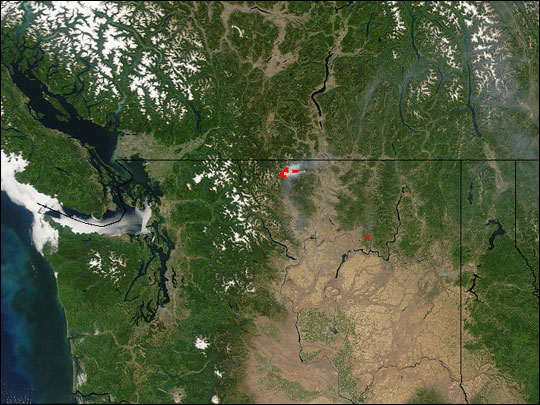 South of Washington's border with Canada, the Fawn Peak Fire (marked in red) continued to burn on July 22, 2003. This image of the blaze was captured by the Moderate Resolution Imaging Spectroradiometer (MODIS) on the Terra satellite on July 22, 2003. At far left in the image, the waters of the Pacific Ocean are swirling with blues and greens, suggesting a bloom of marine plants called phytoplankton.
The high-resolution image provided above is 500 meters per pixel. The MODIS Rapid Response System provides this image at MODIS' maximum spatial resolution of 250 meters.
Image courtesy Jacques Descloitres, MODIS Rapid Response Team at NASA GSFC