This page contains archived content and is no longer being updated. At the time of publication, it represented the best available science.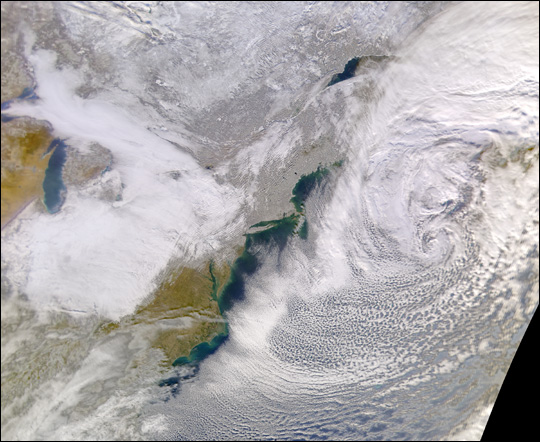 This is the Boxing Day view of eastern North America, compliments of the Sea-viewing Wide Field-of-view Sensor (SeaWiFS). Snow cover (whitish pixels) is visible across many areas where cloud cover does not obscure the surface, including most of New England and parts of southeastern Canada.
A severe winter storm rolled eastward across the central United States between December 23 and 25, 2002, bringing a white Christmas to millions of people in a wide swath stretching from the southern Great Plains region all the way to New England. Many areas in the northeast reported blizzard conditions during the storm, in which snow accumulated on the ground at a rate of up to 5 inches (12 cm) per hour. As much as 3 feet (1 meter) of snow fell in some places over the 48-hour span. Unfortunately, the storm resulted in at least 19 deaths. There have been a number of car accidents reported in many states and tens of thousands of people living in the northeast were left without power.
Due east of Long Island, the center of a low-pressure system is visible in the cloud pattern. Presumably this is the remnant of the winter storm system that brought heavy precipitation to the northeastern United States on December 25.
Image courtesy the SeaWiFS Project, NASA/Goddard Space Flight Center, and ORBIMAGE