December 3rd, 2015 by Maria-Jose Viñas
By Christine Dow
Day to day life at the base station is varied primarily by timing of our field expeditions. We've had some very busy days getting equipment ready, deploying and checking our gear. In between, however, we are essentially operating as we would do at the office. We have set up base in the 'Extreme Geophysics Group' laboratory joining seven Korean scientists. Work tends to happen six days a week, with Sunday as a break (and no 7 am wake-up music!). Also on Sundays there are sometimes mini-expeditions. For example, a group of us walked a couple of miles over to Gondwana, the German base, which is semi-inhabited (two people are there at the moment keeping things ticking over). We were hoping for some "Kaffee und Kuchen" (coffee and cake) but couldn't find anyone around. Instead we looked at rocks ejected from the nearby volcanic Mt. Melbourne, found some lichen and watched the many skuas (seabirds) flying around. We also ventured down onto the sea ice and found a nice ice slide which entertained us for a while (who said scientists couldn't be silly).
Last Sunday, Ryan and I joined a short expedition over to Mario Zucchelli, the Italian base. Recently a crack, or lead, has opened up in the sea ice so it's no longer safe to drive the heavy Piston Bully tractors over. As an alternative, the Koreans and Italians both drove up to the crack and we exchanged passengers by hopping over the gap (it's not really that big). There were some nearby Weddell seals hanging out near the open water, which we got a good look at. You have to be careful not to get distracted and wander into one of the seal holes which are just a bit darker than the surrounding ice – that would be a chilly surprise!

The Italian base was built 31 years ago so looks a bit more worn in than Jang Bogo but is very cosy inside. We were given a tour and fed some excellent espresso and gelato. It was really interesting to see the differences between the two bases and even the landscape. Despite being only 6 miles (10 km) apart, the rocks around Mario Zucchelli look much more weathered and eroded compared to much rougher terrain at Jang Bogo, perhaps due to the closer proximity of the volcano to the South Korean station.
At Jang Bogo, another big difference is the food and is the subject of much conversation with the Western scientists. There has been a large range of foods produced which keeps things interesting. A lot of it is a surprise since we can't read the Korean menu, although being able to cope with spicy food is definitely an advantage (Ryan is better with this than I am). By far the best meal was Korean BBQ evening where we cooked meat and prawns on a hotplate right on the table and had a brilliant array of salad leaves (grown in house) and sundries to eat with the meat. What a meal!
December 1st, 2015 by Maria-Jose Viñas
By Ryan Walker
Our second day of installing equipment was on November 21. After a cloudy day off, we had perfect sunny weather.
We began by installing our two tilt meters at Comein Glacier, which flows into the Nansen Ice Shelf through a small inlet just north of the much larger Reeves Glacier. Most of an ice shelf floats freely up and down with the ocean tides, and the ice only flexes in a relatively narrow band between the floating ice shelf and the grounded glaciers that flow into the shelf. We chose this location (about 35 miles upstream of the ice shelf front) because the flexure zone is particularly wide (over three miles) and there is a broad strip of over 900 yards of ice that floats at high tide and rests on the ground at low tide. (We know this thanks to satellites that measure the height of the ice surface using lasers or radar, and to comparisons between satellite radar images that detect ice motion.) As it turned out, this area is the most spectacular place we've yet visited, surrounded by gleaming white snow- and ice-covered peaks.
Installing tilt meters is rather tricky, since the instrument has to be almost perfectly level. After two Korea Polar Research Institute safety guides checked the area for crevasses (large cracks in the ice), we dug through about two feet of snow before finding solid ice. To keep the tilt meter level, we constructed a table from a piece of plywood supported by three aluminum pipes drilled into the ice. The pipes passed through holes drilled in the plywood, which rested on hose clamps fastened around the pipes. By adjusting the hose clamps, we leveled the plywood before placing the plastic case containing the tilt meter on top of the table. The tilt meter itself has a triangular base with three adjustable screws so it can be leveled on top of a flat plate at the bottom of the case. To do this, I had to attach a cable from the tilt meter to my computer to get readouts of the angles while Christine very carefully adjusted the screws. Once we were satisfied that the instrument was level, we hooked up a solar panel and battery for power, just as we did for the GPS stations. Finally, we buried the case and table in the snow to prevent any melting of the ice supporting the table, which could put the instrument out of level.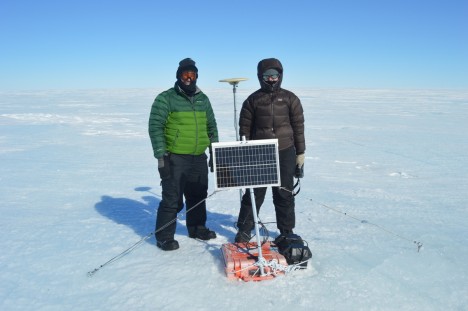 After sandwiches and coffee in beautiful sunny weather (certainly the most scenic picnic lunch I've ever had), we took some time for a school outreach project that Christine will tell you about. Then we flew back out onto the Nansen Ice Shelf (which is much windier) and installed our two remaining GPS stations with no trouble (other than a chilly half hour waiting for the helicopter to return) to complete a successful day in the field. Now we need to wait about two weeks before collecting data, so that we can see what happens to the shelf as the ocean tides go through a full cycle from spring (largest difference between high and low tide) to neap (lowest difference).
Christine says: I'm involved in a program coordinated by the United Kingdom Polar Network called "The Antarctica Day Flags Initiative". School classes design flags for Antarctica Day (which is December 1, the anniversary of the signing of the Antarctic Treaty in 1959) and then scientists and researchers take them to the Antarctic and take photos of them out in the field. I had 21 flags from two schools (Yardley Hastings and Northrepps Primary) so we attached these to poles and took some pictures in front of some beautiful icy cliffs with our Korean colleagues.
November 17th, 2015 by Maria-Jose Viñas
By Ryan Walker
On our first full day at Jang Bogo, we weren't expecting very much to happen. The majority of our equipment wouldn't be arriving for another three days, so we thought we would settle in and learn about the basic amenities of the station — food, showers, laundry, wifi, espresso machine. (I'm not joking, there really is an espresso machine. You can learn all sorts of unexpected skills living in Antarctica.) But then the day turned out to be sunny and clear, perfect for flying, and one of our collaborators, Dr. Hyeon Jae Yoo, came and told us that he had reserved a helicopter for that afternoon to scout out our field sites.
Choosing field sites can be rather tricky. We had spent quite a while looking at satellite images and computer model output in order to estimate where the processes we wanted to study would likely be strongest. For GPS measurements of ocean tides causing ice motion, we wanted to be more in the middle of the ice shelf, away from the islands and rocky outcrops that pin its margins in place. For tilt meter measurements of ice shelf flexure, we would need to be near the landward edge of the shelf — most of an ice shelf floats freely up and down on the tides, and the bending happens in a narrow strip (maybe a few kilometers wide) between the floating ice and the ice resting on the land. Field site selection is then a balance between finding the ideal place to collect data and finding places where you actually can collect data. Crevasses (large cracks in the ice), very uneven ground, and ponds formed by melting of the ice surface can all prevent setting up instruments. In the end, it's essential to get an in person look at your sites, preferably before you've dragged all your equipment there.
This was my first helicopter flight, and since it was my birthday (what a celebration!) Hyeon Jae and Christine insisted I should sit up front. Taking off is sort of like riding in a glass elevator. Flying in a helicopter is very different from flying in an airplane. Being able to go low and slow (or hover) gives great views. We were able to circle our GPS sites at about 10 feet off the ground, and touch down briefly (with the rotors going) at our tilt meter sites to test the firmness of the snow. Our GPS sites are all on blue ice, with no snow cover, and look favorable for installing the instruments. We'll just have to shift a few of them a short distance so they're on ridges rather than hollows — although the ice is pretty flat, this matters when the ice surface starts to melt later in the summer and the water flows downhill. Our tilt meter sites are on a snow-covered area, so we will have to dig down to ice (or at least very firm snow) to get a solid base so we can install the instruments level. This is really important because the ice only bends a little, so the tilt meters measure angles less than half a degree. (That's a little less than 1 foot up per 100 feet across.)
Overall, we were very happy with the results of this flight. Our field areas look good, and we got truly spectacular views of the ice shelf and the rocky hills surrounding it. I shot video with a NASA-provided GoPro, and it came out great, even though all I had to do was point the camera at the windscreen and try to hold it still. The files are too large to post from Antarctica, but the best scenes should be part of the final video that Goddard will produce when we're back home. Thanks to our pilot, Dominic of Helicopters New Zealand, for a smooth and safe flight.
November 16th, 2015 by Maria-Jose Viñas
By Christine Dow
We made it to Antarctica in one piece! After a delightful 3 am start, we boarded the Safair plane that was to take us to the Antarctic along with Korean, Italian and French scientists. What followed was a somewhat chilly, noisy, cramped 7-hour flight. However, the views out our tiny window as we approached and then flew over Antarctica made it all worthwhile. We landed on a sea ice runway in front of the Italian Zucchelli station, with an impressively long run in, and then stepped out into bright sunshine and a "refreshing" breeze. The Antarctic! What a spectacular place. We were surrounded by mountains and ice and sea ice as far as you can see. Ryan traveled the 7 kilometers to Jang Bogo in a "Piston Bully" tractor, but I was lucky enough to get driven over in a specially adapted Kia SUV with heated seats. What luxury! On the way over, we drove past some basking Weddell seals and seal pups enjoying the sunshine.
Jang Bogo from the outside looks like a space ship and the inside does not dispel this imagery. It was only built in the last couple of years and has all the mod cons. There's a greenhouse, hospital area, small gym with climbing wall, espresso machine, wi-fi throughout, and even humidifiers in each room. An intercom announces meals with cheery music (including breakfast at 6:50 am, which is a slightly disconcerting way to wake up if you're not expecting it). The best thing by far is the view from the window. I can see an impressive iceberg, some more seals and the terminus of Campbell glacier. Flags from the countries representing the people staying at the base are flying outside including Korea, Japan, New Zealand, the US and the UK.
We were only able to bring one GPS and one tiltmeter with us because of weight restrictions on the plane. The rest of our equipment will arrive next week. In the mean time, we are going to have to examine the planned field sites so we are expecting a helicopter flight soon. More on it later!
September 22nd, 2015 by Clément Miège
Hi there,
For this last blog post of the season, we summarize our work with numbers and photos to give you an idea of our field camp and the life/work on the ice sheet.
This summer fieldwork can be summarized as:
Weather and camping:
18 days spent on the ice including 16 sunny days and 2 overcast days
Daily air temperature near 0°C in average with our coldest nights at -15°C
Only 2 inches of snowfall (compared to 60 inches gotten last spring!)
200 dehydrated meals were eaten, about one per person and per day – favorite flavors: chicken teriyaki and lasagna.
~30 liters of water melted from snow every day for cooking and drinking
1 hot water bottle per team member to warm up the sleeping bag at night
1 refreshing hair wash per team member in 18 days, using 0°C aquifer water!
Science:
A total of 200 km driven with the snowmobile to commute between sites and do radar surveys
3 slings load transported by BlueWest helicopters which contained ~5,000lbs of equipment (science gear + camping equipment) from Kulusuk onto the ice sheet
~100 km of GPR data total was collected to image the water table
~1850 hammer swings, used as seismic source, were performed, spread out over 18 seismic lines. It was enough to bend the metal plate!
A stack of 30 hammer swings at the same location allowed us to get a return from the bedrock about 2,600 feet (~800 m) below the snow surface!
A 55-m firn/ice core successfully extracted using a new lightweight (50lbs) thermal drill developed by Jay Kyne
Water samples collection and hydraulic conductivity measurements were made at 2 different locations
21 liters of water including aquifer water and melted firn samples, which were collected for dating and understanding the timing of the aquifer formation and evolution
~8 magnetic resonance soundings (MRS) were performed along an elevation gradient to calibrate the GPR signal
6 liters of water per minute were pumped out of the aquifer during 3 hours to make a significant lowering of the water table level. This represents a total of 1300L of water brought up at the surface.
Simultaneous seismic, MRS, GPS and GPR data were collected, allowing direct comparison between the different geophysical approaches
The iWS station from Univ. of Utrecht was relocated next to one of the logging station
2 logging stations were installed to monitor 4 variables: water table height, firn and ice temperature, air temperature, firn compaction…
And that is about it for the 2015 fieldwork! Our team will spend fall working on the data at their labs, and we will be back into the field next year in the spring (May/June).
We hope you are enjoying the blog posts and we would like to thank you all very much for following this work! See you all next year!
Best wishes,
Clem