January 30th, 2018 by Jake Bleacher
Traveling with us were four journalism students from the Stony Brook University School of Journalism; their professor, Elizabeth Bass, the founding director of the Alan Alda Center for Communicating Science at Stony Brook University; and teaching assistant Kevin Lizarazo. This group joined us in the field to see firsthand how research gets done. They hiked into the field day after day and documented just about every aspect of the trip, from the geology of the sites and the instruments we used to the personalities of our team members—even creating a gallery of our hats. All of their work has been synthesized and distilled into a multimedia-rich Reporting RIS4E website, created by the students under the supervision of Lizarazo.
Having students report from the field has been an essential part of RIS4E since the project was launched in 2014. The project leadership worked with the Stony Brook University School of Journalism and the Alan Alda Center for Communicating Science to create a course for students interested in science journalism that puts them in contact with researchers while they work. In 2015, the first group of students traveled with a RIS4E team to Hawaii's Mount Kīlauea volcano.
The land at Potrillo is desert, and temperatures were especially hot during our time in the field. On the first day, the thermometer registered 105 degrees Fahrenheit, making for a harsh introduction to the desert, as the Stony Brook journalists described in their "Dispatches from the Desert" blog.
The combination of explosive and effusive volcanic features creates a rugged terrain that can be difficult to walk on. For some in the group from Stony Brook, this was a new experience. I use the term "lava legs"—similar to sea legs—to refer to mastering walking on the uneven volcanic terrain. I awarded buttons to those who earned their lava legs on my trips.
January 24th, 2018 by Jake Bleacher
Our first destination in Potrillo was Kilbourne Hole, a maar crater that was formed about 16,000 to 24,000 years ago. It's an irregular hole measuring about 1-1/2 miles by 2 miles. Kilbourne is thought to be the result of a steam explosion that occurred when hot magma encountered shallow groundwater. The result was excavation of the crater and deposition of layered deposits that record the history of water here.
After a few days at Kilbourne Hole, we visited Aden Crater, where lava flows piled up to form a gently sloping volcano known as a low shield. As the lava continued to flow away, the summit collapsed, leaving a bowl-shaped depression called a caldera. The emplacement of lava flows at Aden led to a variety of other depressions, some of which are linked to lava tubes or underground caves, and some which are not. Understanding which pits will lead to caves is important because future explorers might use caves as shelter or as promising locations for scientific investigation. This was the main goal for our work at Aden Crater.
Team member Jose Hurtado of the University of Texas at El Paso explains how Kilbourne Hole formed and notes similarities to some features on Mars. NASA/GSFC
At Kilbourne Hole, the group looked for xenoliths, material that is brought up from deep in Earth's mantle by volcanic activity and gets trapped inside other rocks. In this case, the xenolith is the greenish mineral olivine, which is sometimes used as a gemstone called peridot. NASA/GSFC
After a few days at Kilbourne Hole, we visited Aden Crater, where lava flows piled up to form a gently sloping volcano known as a low shield. As the lava continued to flow away, the summit collapsed, leaving a bowl-shaped depression called a caldera. The emplacement of lava flows at Aden led to a variety of other depressions, some of which are linked to lava tubes or underground caves, and some which are not. Understanding which pits will lead to caves is important because future explorers might use caves as shelter or as promising locations for scientific investigation. This was the main goal for our work at Aden Crater.
Jacob Richardson and Ben Feist check out a deep hole with cold air coming out, a welcome respite on a 104-degree day. A hot desert wind can be heard blowing. NASA/GSFC
January 23rd, 2018 by Kelly Brunt
Tom and I have returned to McMurdo Station!
Our traverse is complete, our gear has been stored for next season, and we are ready to head north to warmer climates. But in the meantime, we are awaiting our flight to Christchurch, New Zealand, at Antarctica's largest research station.
McMurdo is one of three permanent US research stations in Antarctica. The other two are Amundsen-Scott South Pole Station and Palmer Station, which is south of South America. McMurdo has beds for approximately 1,000 people, but while we have been here, the population has hovered between about 750 and 825.
While there is a research station operated by New Zealand just 2 km away, McMurdo is relatively isolated. As such, there are facilities here that provide all of the basic essentials required for living in the polar regions, such as power, heat, and water. McMurdo has its own diesel-based power plant, providing lights and heat to the station. The station gets its fresh water through the desalinization of the sea water in the neighboring bay via a method called reverse osmosis. And McMurdo has its own waste-water treatment facility. To operate a station this size, and in this environment, McMurdo also requires an airfield, a galley, and all of the staffing that goes along with running a small town. It is quite an operation.
McMurdo station also has specialized facilities that support the cutting-edge science that happens here. These facilities include a sophisticated laboratory that is capable of housing a cross section of Antarctic research disciplines such as glaciology, geology, meteorology, and biology.
The research that takes place here also includes really cool meteorite science! The search for meteorites is a bit simpler here than in other parts of the world. Since Antarctica is a thick sheet of ice, rocks found on the top of the ice sheet are often associated with debris fallen from space; these meteorites stand out against the white surface. Plus, the flow of the ice organizes the meteorites, making them more centralized for collection. Some of our colleagues from NASA Goddard Space Flight Center are part of this effort.
The pier in town is currently the busiest spot on station. The US Coast Guard Cutter Polar Star has cleared a channel into McMurdo Sound, giving three other vessels access to town. The first is the Nathaniel B. Palmer, the US Antarctic Program's premier research vessel, which has been in town for the past few days. Simultaneously, the entire station is preparing for the arrival of the two other ships: the tanker Maersk Peary brings in the annual fuel supply, and the Ocean Giant cargo ship brings in the food and supplies for the following year.
Tom and I are scheduled to leave McMurdo on the next flight. But the weather has deteriorated and we are left patiently waiting for it to clear. We are extremely happy with our successful field season and have had a fantastic trip. Thanks for reading and following along.
-Kelly & tom
January 17th, 2018 by Jake Bleacher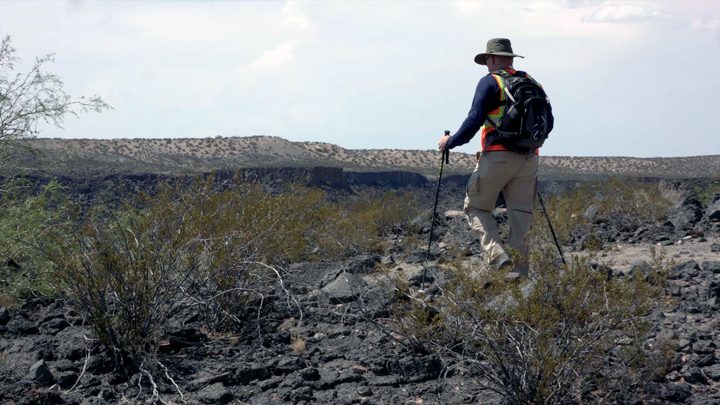 We came to Potrillo to conduct field excursions that simulate EVAs, or extravehicular activities, which are like the moonwalks that Apollo astronauts took on the lunar surface. Future astronauts might conduct something like a moonwalk on the surface of another rocky planetary body. Our research helps answer the question: If astronauts are going to explore volcanic features on the surfaces of other planets or moons, what kinds of instruments should they bring, and how will they use the different types of data that they collect?
Astronaut Butch Wilmore and geologist Liz Rampe, both from Johnson Space Center in Houston, joined us for the EVA activities. They carried out some of the tasks that a crew might perform, and then gave us feedback about the use of instruments during EVAs. This feedback is valuable for us because it's from the perspective of someone who has conducted spacewalks from the International Space Station (Wilmore) and of someone who has expertise as a field geologist and operating rovers on the surface of Mars (Rampe).
This information helps us build and prepare to use instruments that would be ready for spaceflight and planetary exploration. Goddard has a long history of building instruments, and we're adding to that legacy by learning as much as we can about how well different kinds of instruments work for the tasks that explorers would have to perform on the surfaces of other planetary bodies.
NASA astronaut Butch Wilmore talks about simulated extravehicular activities that the team conducted in the Potrillo volcanic field and how the excursion sites were chosen. NASA/GSFC
Footage from the camera worn by Butch Wilmore shows Liz Rampe working with him on simulated extravehicular excursions at Kilbourne Hole. NASA/GSFC
January 16th, 2018 by Tom Neumann
The 88S traverse was very much a group effort – in addition to the four of us, literally hundreds of people supported our project to varying degrees. This is not at all uncommon for work in Antarctica: no one person can do everything, and each person brings some unique skill to the effort.
Without the vehicles, there would have been no traversing, and our mechanic Chad Seay deserves the credit for keeping us moving. Chad spent a furious week before we left South Pole servicing and repairing our two PistenBully tracked vehicles to try to head off potential complications in the field. It's much easier to fix problems in the relative warmth of the garages at South Pole than out at 87.979 south latitude. In addition, Chad kept a careful eye on our generators and emergency heat source (the venerable Hermann Nelson). Chad picked up the knack for wrenching growing up among the farms of eastern Tennessee, and has honed his skills in the vehicle shop at McMurdo Station. His attention to detail is second to none, and his seemingly inexhaustible supply of PistenBully-branded clothing was reassuring.
Our safety and well-being were the purview of Forrest McCarthy, our mountaineer and medic. Forrest led our field safety training in McMurdo and brought literally decades of experience in the mountains and polar regions to lead us through potential scenarios and how to deal with them. While none of these (thankfully) came to pass during our traverse, being prepared is an important component of staying safe. Forrest was nearly always the first one up in the morning, and had coffee (stove top espresso) and hot water ready for all. He drove the lead vehicle the entire way, and his unfailing good humor was always welcome, and his taste for Slim Jims was a source of entertainment, at least for me.
Kelly was the overall leader for the trip, and kept track of an impressive array of details, while not losing sight of the overall science goals of the traverse. Although this was her first foray into traversing the frozen plateau, Kelly kept us going in the right direction. (literally! Who else would have corrected 88S to 87.979S?) Though I knew Kelly was a coffee connoisseur, her dedication to a morning pour-over was a dependable part of our morning routine.
I rounded out the quartet and rode shotgun with Forrest. My main duties were to run the ground penetrating radar, and partake of both the stove top espresso and pour-over each day. Having done a couple of traverses across the plateau, my other main duty was to offer sage advice and/or witty comments as the situation warranted. At least that's what I think I did – Chad, Kelly and Forrest may have a different opinion!
We all shared in the cooking and cleaning duties, and managed to keep ourselves fed and happy. Some highlights were Chad's frozen burritos (and he claimed he couldn't cook?!), my tiny pizzas, and a truly massive amount of cookies and cream ice cream. While the ice cream was good, we always required a hot drink immediately afterwards: the kitchen tent was warm, but perhaps not warm enough to make eating ice cream a really good idea.
In addition to the four of us, there really were a multitude of others here in Antarctica and beyond who made the traverse such a success. While not a complete list, we all want to thank (in no particular order): Tim, Jen, Ian, Bjia, Kory, Steve Z, Chad, Curt, Autumn (what ice cream?), Liz, Joey, Tony, Michael, Dan & Danny, Tony, Stacy, James, JD (who just makes things happen), Jen, Marlene, Darren, Andrea, Joni, Zoe, Annie, and Thorsten.
Trip isn't over yet folks – we're re-packing cargo and heading back to McMurdo shortly…
-Tom and Kelly