We are singing again! Or at least our speaker is, in the hope of enticing robins on to the field. After our success in attracting the attention of migratory robins with a recorded call, we have been trying to draw in more robins by playing it through a wildlife speaker. We noticed that one robin was particularly interested in the speaker. After taking a closer look at him, we saw he was wearing a band. We place a band around the robins' legs we catch so that they can be identified by us, or other researchers, even after their GPS backpacks have fallen off. Bird bands are tiny aluminum bracelets that weigh next to nothing, but have a unique ID number stamped on them. To learn more about banding birds, click here.
Last year we recaptured a robin wearing a backpack a week after we had originally caught him. We were fairly certain he was breeding here and done migrating since he had stuck around for a week, so we took his backpack off to put on another robin. The robin that was intent on checking out our speaker was wearing a band. He's very likely the same bird we caught last year. That means our resident robin came to breed at the Boreal Centre again!
It may be that the singing worked, or entirely coincidental, but we saw the largest flock of robins so far. Nicole estimated that there were about 120 robins! As the flock descended onto the grass, our resident robin fiercely defended his territory. How many robins can you count in this video?
Some thing, or some predator, spooked the flock, because they flew off very quickly. Fortunately some of them ended up in our nets.
Meet Star, Scuttle, Fury, Mr. Noodle, and WiFi!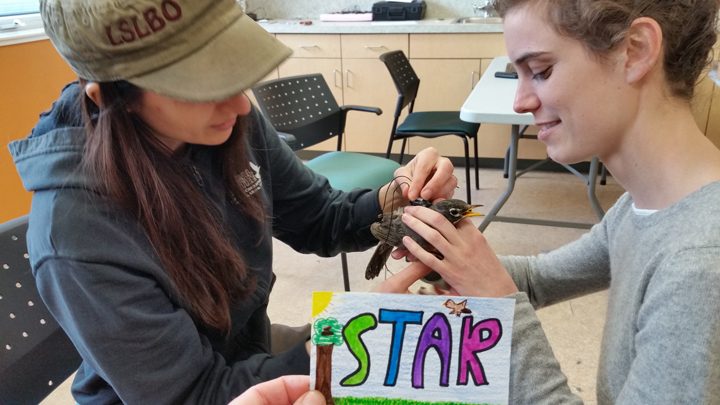 Boreal beavers
Last year we noticed lots of evidence of beavers at work around the Boreal Centre. Although we saw signs of the beavers, we never saw any of them in action.
Here's a movie that shows a beaver pond near the Boreal Centre. Can you guess who has chopped down all of the trees?
The other night, my mom and I ventured over to the beaver complex around sunset and there they were! Two beavers were swimming in the pond they had created!
Beavers are remarkable swimmers, partly because of their webbed hind feet. Did you notice the beaver slapping his tail on the water? He does this to scare predators (and in this case, me).  The beaver was entirely comfortable in the water, despite the melting ice, because of his dense coat of fur. Beavers change their environment to suit their needs. Beavers build dams to create ponds, which help them escape from predators in the water. Beaver ponds create habitat for other species, like fish and waterfowl. Because of their critical role in creating habitats, beavers are often referred to as a "keystone species."
Check back soon for more updates on the Space Robins and their boreal neighbors!