January 31st, 2015 by Kate Ramsayer
Two hours before SMAP's early morning launch Saturday, Vanessa Escobar was on NASA TV, explaining a new effort to link the soil-moisture-measuring satellite with the people who will put it to use.
It's called an 'Early Adopter' program – and it lets interested companies and agencies, from John Deere to the National Oceanographic and Atmospheric Association, take simulated SMAP data and develop the tools and computer programs to interpret it. With these tools and programs in hand, SMAP's 45 Early Adopters will be ready to grab the satellite's data as soon as it's processed to help improve flood warning systems, forecast crop yields, better predict droughts, understand dust storms and more.
"It's fantastic science, and through the early adopters the science is getting to the users," said Escobar, an applications scientist at NASA's Goddard Space Flight Center.
SMAP is the first NASA mission with an Early Adopter program. The mission's science team has been driven to find ways in which the soil moisture data could be used to benefit people and communities, she said.
And so from an early point, Escobar and her colleagues reached out to people and groups who could use information about the soil's water content. They started with some of the more obvious groups – agriculture researchers, weather forecasters – SMAP's "close friends," she noted. But as word of the program spread, others became interested as well: The public health scientist in the American Southwest concerned with respiratory impacts of dust storms, for example, or scientists interested in mapping sea ice with the satellite's capability of determining whether a surface is frozen.
With their early access to simulated data sets and time to develop the tools to use them, those adopters are ready.
In the next couple months, after SMAP completes its check-out phase, "the job changes, it goes from simulated data to real data," she said. "We keep working with the early adopters, we keep communicating with them, and instead of talking about the methods to use the SMAP data, we'll talk about the impacts, and the societal benefits."
January 30th, 2015 by Kate Ramsayer
California road trips cry out for a game I like to call "Guess What's Growing by the Side of the Road." The rules are simple – glance at the green leaves sprouting from the ground and guess whether they're carrots or kale – and you can discover fascinating facts (artichokes are thistles!). This week, I've introduced a colleague to the game as we drove back and forth between our hotel and Vandenberg Air Force Base in California, past vineyards and rows of green plants in dark soil.
We're here for the launch of the Soil Moisture Active Passive satellite, NASA's latest mission to look back at our home planet. SMAP is designed to measure water content with unprecedented accuracy – and after talking with scientists and listening to briefings all week, I can't think about the mystery roadside crops without wondering about water.
Soil's water content is a key element in Earth's ecosystem, scientists involved with the mission said this week. While agricultural fields now produce substantially more crops per acre than they did 50 years ago, agriculture is still very vulnerable to 'shocks' like droughts, said Wade Crow, a research physical scientist with the USDA and SMAP science team member. An agricultural drought was one of the triggers for the 2008 food crisis when global food prices shot up, causing humanitarian crises, he said.
And measurements of soil moisture – the kind of information SMAP will gather – are the most direct and earliest indicator of agricultural drought.
"If you detect that directly, you are in a position to mitigate the effects. With better monitoring you can better respond so you can have less humanitarian and economic impact," Crow said.
Soil moisture measurements will also be plugged into the weather models that help meteorologists forecast the rain that falls on those crops and other surfaces. Soil has an 'inherent memory' when it comes to moisture, said Randy Koster, SMAP science team member and hydrologist at NASA's Goddard Space Flight Center.
If it's rainy in mid-June and the soil is wetter than usual, for example, it will probably also be wetter than usual in July, he said. That could impact how much water evaporates into the atmosphere to fall back as rainfall, as well as air temperature. Rainfall on wet soil is also more likely to run off, compared to rainfall that's soaked up by parched soil, leading to better stream flow predictions.
"SMAP's going to be providing unprecedented amounts of data on soil moisture, and utilized in these kinds of ways, we have the potential for better forecasts," Koster said.
January 30th, 2015 by Kathryn Hansen
For the time being, NASA's Soil Moisture Active Passive (SMAP) satellite is waiting to rocket into orbit.
Media packed up their cameras after the first scheduled launch from Vandenberg Air Force Base in California was scrubbed on January 29, 2015 (above) due to upper level winds. The second targeted launch window on January 30 was delayed to January 31, "pending completion of minor repairs to the United Launch Alliance Delta II launch vehicle," according to a NASA press statement.
January 29th, 2015 by Kathryn Hansen
The Soil Moisture Active Passive (SMAP) mission is one step closer to launch. On January 28, the mobile service tower (top) rolled back to reveal the Delta II rocket (second image). Liftoff of the Delta II rocket and its satellite cargo is targeted for launch from Vandenberg's Space Launch Complex 2 at 6:20 a.m. PST on Thursday, January 29.
NASA administrator Charles Bolden attended the rollback event, where he spoke to a group gathered to watch the reveal. "What will SMAP measure?" asked a second-grade student (above).
Bolden was not the only one answering that question on the day before launch. SMAP scientists Dara Entekhabi, Randy Koster, Wade Crow, and Susan Moran (above, from left to right) started the day explaining the mission's science to a gathering of social media mavens. So, what will SMAP measure? Visit the mission page to find out.
January 28th, 2015 by Kate Ramsayer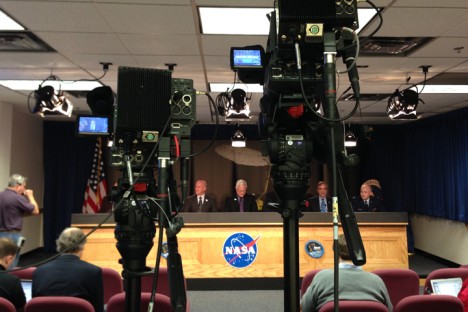 SMAP is ready to go!
The Soil Moisture Active Passive (SMAP) mission, which will map the water content of soils worldwide, passed its "launch readiness review" on January 27. There is also a favorable weather forecast for a launch on January 29. So the SMAP team is ready.
"It has reached the point where it's an amazing energy rush right now," said Christine Bonniksen, SMAP program executive. "It's kind of like when you're listening to Beethoven's 6th symphony, when you're getting to the big crescendo, and everybody can feel it coming. It's amazing to watch all these folks buckle down."
Bonniksen spoke at a press briefing marking two days before the scheduled launch. She highlighted the role of SMAP among other missions studying our planet: Once it's in orbit and operational, SMAP will join 19 other NASA satellites and sensors with an eye on Earth. The start of the SMAP mission also will complete a series of five Earth science launches in the past year.
"We're really looking forward to the synergism from all these instruments," she said.
Soil moisture factors into three major cycles of Earth's environment — water, energy, and carbon — said Dara Entekhabi, SMAP science team lead. The three cycles work together like gears in a clock, linked together by soil moisture and the freezing and thawing of the ground. With SMAP, scientists will improve models of climate and weather forecasting, and better understand the workings of the planet.
"SMAP will peer into the metabolism of Earth's environment," Entekhabi said.