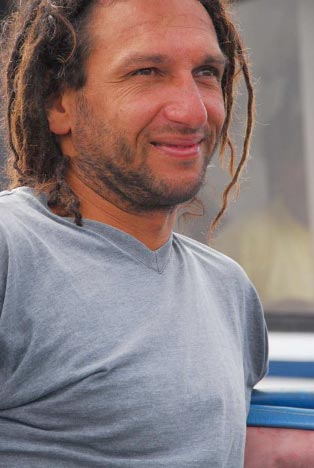 My main role within the Charles Darwin Foundation is to be aware of the safety during the field activities in the marine and terrestrial areas. I also participate in the different marine research projects that are going on.  In the ecological Monitoring after seven years of participation; I identify and take notes of the number and size of the fishes inside the transects we run across the entire Marine Reserve of this wonderful and unique paradise.
Another fundamental part of my duties is to ensure that all the equipment regarding the diving operation are in optimal conditions (scuba equipments, compressors, inflatable boats, outboard engines, etc).
There are other interesting and important projects running in the Marine area where I'm also involved, such as the Galapagos and Hammerhead's shark tagging and/or the installation of permanent anchors (Halas and Helix systems) where I lead the practical component.
I definitely must admit that I consider myself a lucky person and thankful to have a life which gives me the possibility to know the amazing and beautiful underwater world of the Galapagos islands, to be able to contribute a little towards conserving it and to allow me to have a family where I can see my kids growing up surrounded by peace and nature.
We have at the moment the necessary basic tools to be able to perform our objectives; but it would be ideal if we could get in the near future new technology that is already available but we are not able to possess because of the lack of economical resources, such as: Enriched Air Nitrox , rebreathers and dry suits. Counting upon such equipment would  contribute to reduce the risks regarding diving illness and also to get more and/or different scientific types of information.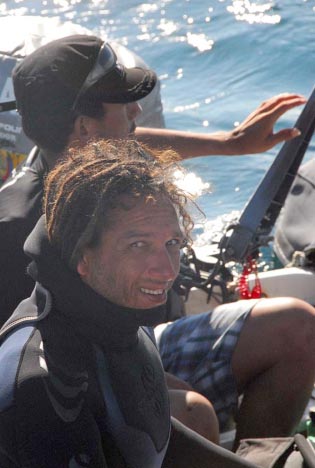 Spanish/Español
Roberto Pépolas – Oficial de Seguridad de Buceo, Apoyo Logístico
Mi rol principal dentro de la Fundación Charles Darwin; es el de velar por la seguridad en las actividades de investigación que se desarrollan en el campo, tanto en el área marina como terrestre.
Participo también activamente dentro de los diferentes proyectos de investigación marinos que se ejecutan. En el monitoreo ecológico submarino, luego de siete años de participar; actualmente cumplo con el rol de identificar y registrar tamaño y cantidad de los diferentes peces que existan dentro de los transectos que realizamos en toda la Reserva Marina de este maravilloso y único paraíso.
Parte fundamental de mis responsabilidades es la de velar que contemos con las herramientas necesarias en optimas condiciones; para poder cumplir con nuestro trabajo (equipos de buceo autónomo, compresores, botes, motores, equipos de emergencia, etc).
Existen dentro del área marina diferentes proyectos ejecutándose, todos ellos con la finalidad de contribuir a la conservación del entorno marino y sus ecosistemas.
Participo también activamente en todos ellos, como por ejemplo: el de marcaje de tiburones (Galápagos y Martillos) y en la implementación de fondeaderos permanentes, el cual lidero en lo que a su instalación práctica se refiere.
Cabe mencionar que Julio Delgado, nacido en la isla San Cristóbal y Divemaster, quien trabaja a mi lado, contribuye enormemente en cumplir con las responsabilidades antes mencionadas.
Definitivamente, debo admitir , que me considero una persona muy afortunada y agradecida con la vida , por haberme dado la posibilidad de conocer el increíblemente bello mundo submarino que Galápagos posee , de poder contribuir un poquito en conservarlo y de haber formado una familia y ver crecer a mis hijos rodeados de tanta paz y naturaleza.
Contamos al momento con las herramientas básicas necesarias para poder cumplir con nuestros objetivos, pero seria ideal a futuro, poder contar con mayor tecnología que al momento es accesible pero la cual no poseemos debido a la escasez de recursos económicos como por ejemplo: Aire enriquecido (EAN), Equipos de circuito cerrado y trajes de buceo secos.
El poder contar con lo antes mencionado, contribuiría enormemente en cuanto a poder reducir riesgos de enfermedades relacionadas al buceo y a su vez en la obtención de mayor información científica.