My name is Mariana Vera, and I've been involved in conservation for more than 7 years. Right now I am working as an associate researcher in the marine coastal research area of the Charles Darwin Foundation in Galapagos (Ecuador). As a science diver, my work is centered around ecological monitoring and I specialize in taxonomic identification of sessile species (such as corals, tunicates, gorgonians, sponges and algae among others). I have had the opportunity to be involved and participate in various science projects that work to improve our understanding of the islands.  Some of the work that I do includes:
Participant in research and monitoring trips as a part of the Marine Ecosystem team working as a scientific diver. (9 Sub-tidal Eco-monitoring trips, 3 Oceanographic trips (NASA-OCEAN),  3 Coral Monitoring trips (Darwin Initiative), Surveys under Marine Management Area Science (MMAS) program Costa Rica/Coco Island, 1 monitoring MMAS-Incofish trip to  Puerto Lopez/La Plata Island, 1 monitoring and training trip Los Roques Archipelago, Venezuela, 1 monitoring Pre Sea Cucumber fishing season, Support diver with  visiting scientists.
Dive, collection, otolith extraction, and information registry for juvenile fishes.
Logistic technical support in field trips, equipment and material preparation
Data entry and management of information in the CDRS Submarine Ecological database.
Data analysis and biodiversity statistics
Report preparation.
Collect new species in the field towards biodiversity registry, CDRS marine inventory and IUCN red list.
Work with invasive species
Organize conferences and marine conservation educational outreach.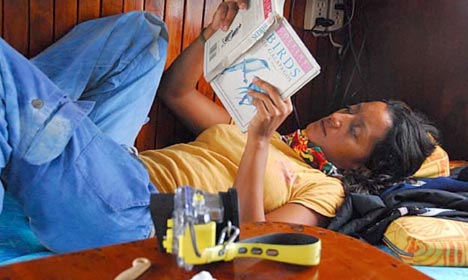 Before working at the research station, I was a consultant for Conservation International, developing fisheries databases for Galapagos, giving interviews to the fishing sector as part of a CI initiative towards changing fishermen livelihoods (reducing overfishing) and also collected information from the different sector groups using the port zones towards implementing a micro-zoning to coordinate activities in those areas.
I also had the opportunity to work in the fisheries monitoring program as a research assistant, monitoring the main fisheries in the islands (sea cucumbers, lobsters, white fin fish), working directly with the fishermen down at the local docks, as an on-board fisheries observer and in the distribution centers. As well as working with the Charles Darwin Research Station, I also volunteered with their counterpart in the marine resources area of the Galapagos National Park Service.
All that I have experienced since living here, has made me aware of the fragility of these islands and the serious problems that they confront, not only for marine conservation, but also in the terrestrial realm.  I'm very conscious of the fact that all of us who work in conservation do so because we have an enormous responsibility and connection to preserve these fantastic islands. For that reason we are willing to help, and the only way to do that is to have a better understanding of the biodiversity and all and every component of the island ecosystem — that is the work that drives me and the central mission of the Charles Darwin Foundation.
Spanish/Español
Mi nombre es Mariana Vera, he estado involucrada en el Área de Conservación por mas de  siete años, Actualmente estoy trabajando como  Investigador Asociado en elÁrea de Investigación Marina y Costera de la Fundación Charles Darwin en Galápagos, Ecuador. Como buzo científico mi principal trabajo es en monitoreo ecológico y destrezas en la identificación taxonómica de especies sésiles (tales como corales, tunicados, gorgonias, esponjas y algas entre otros). He tenido la oportunidad de estar involucrada y participar en varios proyectos científicos relevantes para el mejor conocimiento de  las islas:
Participante en viajes de investigación y monitoreo como parte del equipo de Ecosistemas Marinos como buzo científico. (9 viajes de Eco-monitoreo, 3 viajes Oceanográficos (NASA-OCEAN), 3 viajes de monitoreo de corales (Darwin Initiative), Viaje de investigación bajo el programa Marine Management Area Science (MMAS) Costa Rica / Isla de Cocos, 1 viaje de monitoreo MMAS-Incofish a  Puerto López / Isla La Plataa, 1 viaje de entrenamiento y monitoreo al Archipiélago de Los Roques, Venezuela, 1 viaje de monitoreo Pre-temporada de pesquería de Pepino de mar, apoyo de buceo a científicos visitantes.
Buceo, colección, extracción de otolitos y registro de información para peces juveniles.
Soporte técnico-logístico en viajes de campo, preparación de materiales y equipo
Ingreso de datos, manejo de información en la Base de datos Ecológica – SED.
Análisis de datos y estadística de biodiversidad.
Preparación de reportes.
Colección de nuevas especies en el campo actualizando el registro de biodiversidad, inventario marino de la Fundación Charles Darwin y la lista roja de la UICN
Trabajo con especies invasivas – colaboración con el PNG.
Organizar conferencias y  charlas educacionales de conservación marina
Laboré como Consultor para Conservación Internacional,  elaborando base de datos de Pesquerías para Galápagos, realizando encuestas al sector pesquero como parte de una iniciativa de Conservación Internacional hacia el cambio de actividad de los pescadores (reducir sobrepesca) y levantando información de los diferentes usuarios de las zonas portuarias cercanas al Puerto, respecto a la implementación de la microzonificación en estas áreas
Además tuve la oportunidad de trabajar en el programa de monitoreo pesquero como Asistente de Investigación, monitoreando las principales pesquerías que se desarrollan en las islas (Pepinos, langostas, pesca blanca), teniendo relación directa con los integrantes del sector pesquero en los muelles locales, como observador pesquero a bordo de embarcaciones y centros de distribución. También trabaje de voluntaria en la misma área y en el Parque Nacional Galápagos, en el Área de Recursos Marinos.
Todas las experiencias obtenidas mientras he vivido aquí, me han brindado la posibilidad para darme cuenta de la fragilidad de estas islas y de los serios problemas que confronta, no solo en la parte en la parte de conservación marina sino también  en la terrestre, soy  consciente que para todos nosotros quienes trabajamos en conservación lo hacemos por que tenemos un enorme compromiso con estas fantásticas islas y con la conservación de las mismas, por esa razón estamos dispuestos a ayudar a preservarlas,  la única manera es teniendo un mejor entendimiento de su biodiversidad y de todos y cada unos de los componentes de sus ecosistemas, ese es justamente el trabajo que me impulsa y la función central de la Fundación Charles Darwin.