Over four missions, astronaut Carl Walz logged 231 days in space. Before the launch of the International Space Station resupply Orb-2 mission  from Wallops Island, Virginia, in July 2014, he described a few of views of Earth from space that he remembers best. Walz is now Vice President of Human Space Flight Operations at Orbital, a Virginia-based aerospace company.
"There was one rare, clear night that sticks out in my memory when I could see all the city lights along the Eastern Seaboard. I'll never forget those lights. I could see New York, Philadelphia, Washington, all the way west to Chicago all at once. It was just all there…
…and there was absolutely nothing like flying over Las Vegas at night. You can actually see the colors of the lights. Most city lights are a kind of white light that's a bit diffuse. Then there's Las Vegas. It's this bright spot out in the middle of the desert just staring you in the face…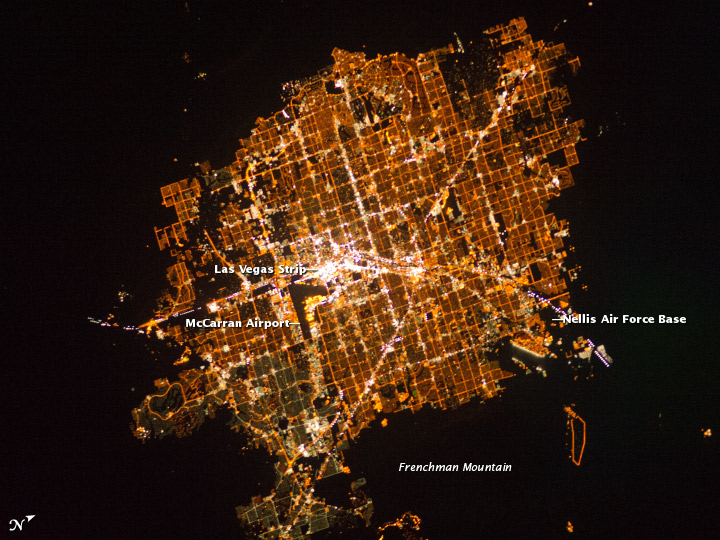 …And the storms. We didn't see any hurricanes because we were flying in the winter and springtime in the Northern Hemisphere, but we did see our share of thunderstorms. Remember, you're looking at the thunderstorms from the top down. You can't see lightning directly, but you can see these incredible flashes illuminating the clouds…
…Oh, of course, we'd sometimes see shooting stars. From that perspective, it was simply jaw-dropping."
Editor's Note: The photographs used to illustrate this post were not taken by Walz.  Click on each of image to find out more about when it was taken. To see more astronaut photographs, check the Earth Observatory Image of the Day on Mondays, browse the archive of astronaut photographs on Visible Earth, or search the Gateway to Astronaut Photography website.