Happy 15th Birthday, International Space Station! The first International Space Station component, the Russian Zarya module, was launched in November 1998. In the years since, NASA and its global partners have built a world-class orbiting laboratory and kept a continuous human presence in space since 2000.
I decided to celebrate the occasion by searching through the astronaut photography collection on Visible Earth to find of my 15 favorites. My goal was to find at least one image for each year dating back to 2000, though I couldn't resist adding a few extras for some years. I also checked our web traffic statistics to see how well my tastes matched with our readers. In a some cases, my favorites were also popular. In other cases, not so much. (Any other fans of crepuscular rays out there?)
But enough about me. What do you think? In the comments section, please send us the links to your favorite astronaut photographs from the ISS. However, we'd prefer if you send no more than three.  And don't forget to scroll to the bottom of this post for a list of the 15 most popular astronaut photographs on our site.
Sunrise, 2013

Elusive Red Sprite, 2012 (12th most popular)

Midwestern USA at Night with Aurora Borealis, 2011 (6th most popular)

Crepuscular Rays, 2011

Nile River at  Night, 2010 (3rd most popular)

Sarychev Peak Eruption, 2009 (9th most popular)

Tokyo at Night, 2008

International Space Station from Endeavor, 2007

Total Solar Eclipse, 2006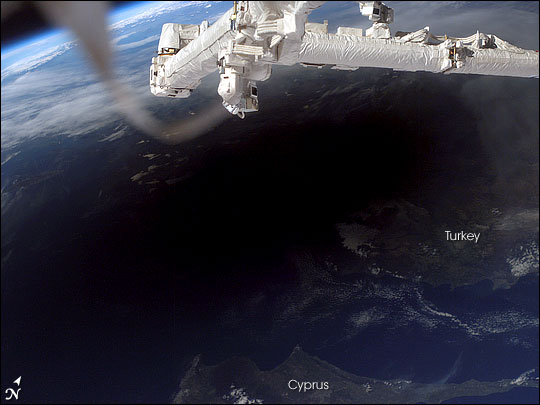 St. Petersburg and the Gulf of Finland, 2005

Greenhouses of the Campo de Dalias, 2004

Hurricane Isabel, 2003

Mount Etna Erupting 2002

Dhaulagiri, 2001

First Image, 2000

Earth Observatory's 15 Most Popular Astronaut Photographs (based on website statistics since 2010)
1. Iberian Peninsula at Night
http://earthobservatory.nasa.gov/IOTD/view.php?id=76777
2. Montreal at Night
http://earthobservatory.nasa.gov/IOTD/view.php?id=48471
3. Nile River Delta at Night
http://earthobservatory.nasa.gov/IOTD/view.php?id=46820
4. India-Pakistan Borderlands at Night
http://earthobservatory.nasa.gov/IOTD/view.php?id=52008
5. Fire in the Sky and on the Ground
http://earthobservatory.nasa.gov/IOTD/view.php?id=52287
6. Midwestern USA at Night with Aurora Borealis
http://earthobservatory.nasa.gov/IOTD/view.php?id=76201
7. Las Vegas at Night
http://earthobservatory.nasa.gov/IOTD/view.php?id=47687
8. Liège at Night
http://earthobservatory.nasa.gov/IOTD/view.php?id=80145
9. Sarychev Peak Eruption, Kuril Islands
http://earthobservatory.nasa.gov/IOTD/view.php?id=38985
10. Northwestern Europe at Night
http://earthobservatory.nasa.gov/IOTD/view.php?id=51892
11. Mount Tambora Volcano, Sumbawa Island, Indonesia
http://earthobservatory.nasa.gov/IOTD/view.php?id=39412
12. Elusive Sprite Captured from the International Space Station
http://earthobservatory.nasa.gov/IOTD/view.php?id=78487
13. Looking Down on a Shooting Star
http://earthobservatory.nasa.gov/IOTD/view.php?id=51754
14. Atafu Atoll, Tokelau, Southern Pacific Ocean
http://earthobservatory.nasa.gov/IOTD/view.php?id=37753
15. Hurricane Earl – The Astronaut View
http://earthobservatory.nasa.gov/IOTD/view.php?id=45583