One year ago today, citizens of New Jersey, New York, Connecticut, and much of the northeastern United States woke up to flooded avenues and homes, wind-ravaged neighborhoods, blackouts, and ripped up trees, coastlines, and lives. In the dark, early hours of October 30, 2012, the VIIRS instrument on the Suomi NPP satellite caught this glimpse of the monster storm named Sandy, a hurricane that collided with two other weather fronts and merged into one of the most destructive storms in recorded American history.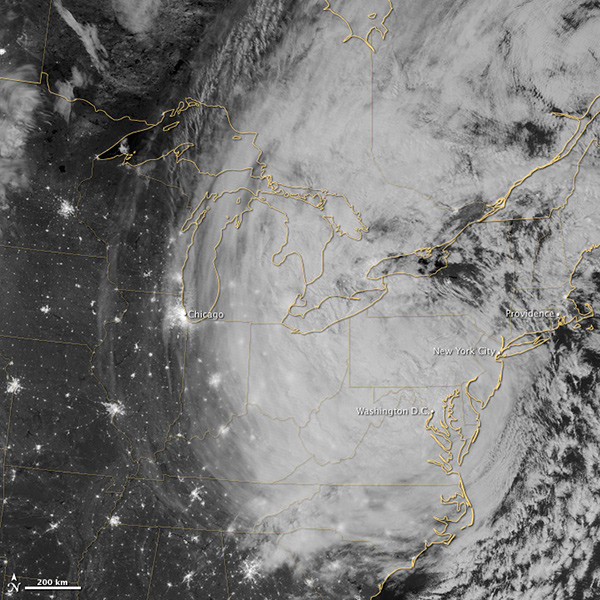 Our gallery of Sandy images conveys an abstract, distant sense of the event. In satellite images, the eye is drawn to the awesome and beautiful cloud forms; to the potent, organized march across the skies; to  the incredible scale of the storm. But the shoreline of my New Jersey childhood was nearly wiped clean, and a satellite can't really show that. It's not until you get down to the street level — such as the aerial photo below — that the human cost comes into better focus.
The odds said Sandy shouldn't happen; it was too late in the season, and too far north for a hurricane. But the odds of such storms seem to be changing as the world grows warmer and the weather grows a bit less predictable. Read our feature story on how storms may become less frequent but more destructive.
The Intergovernmental Panel on Climate Change has some good insights on anticipating and preparing for a future where extreme storms like Sandy could become more likely and more devastating. It should be required reading if you live near the coast.