October 30th, 2013 by Mike Carlowicz
One year ago today, citizens of New Jersey, New York, Connecticut, and much of the northeastern United States woke up to flooded avenues and homes, wind-ravaged neighborhoods, blackouts, and ripped up trees, coastlines, and lives. In the dark, early hours of October 30, 2012, the VIIRS instrument on the Suomi NPP satellite caught this glimpse of the monster storm named Sandy, a hurricane that collided with two other weather fronts and merged into one of the most destructive storms in recorded American history.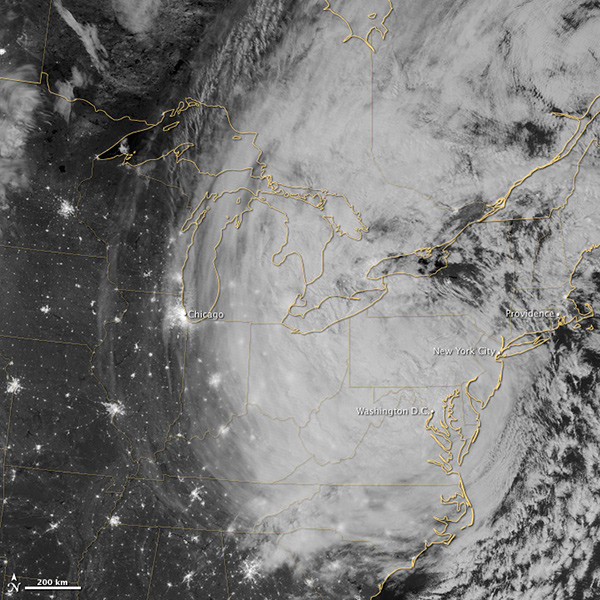 Our gallery of Sandy images conveys an abstract, distant sense of the event. In satellite images, the eye is drawn to the awesome and beautiful cloud forms; to the potent, organized march across the skies; to  the incredible scale of the storm. But the shoreline of my New Jersey childhood was nearly wiped clean, and a satellite can't really show that. It's not until you get down to the street level — such as the aerial photo below — that the human cost comes into better focus.
The odds said Sandy shouldn't happen; it was too late in the season, and too far north for a hurricane. But the odds of such storms seem to be changing as the world grows warmer and the weather grows a bit less predictable. Read our feature story on how storms may become less frequent but more destructive.
The Intergovernmental Panel on Climate Change has some good insights on anticipating and preparing for a future where extreme storms like Sandy could become more likely and more devastating. It should be required reading if you live near the coast.
October 28th, 2013 by Adam Voiland
–
Each month, Earth Observatory offers up a puzzling satellite image here on Earth Matters. The October 2013 puzzler is above. Your challenge is to use the comments section to tell us what part of the world we are looking at, when the image was acquired, and why the scene is interesting.
How to answer. Your answer can be a few words or several paragraphs. (Try to keep it shorter than 300 words). You might simply tell us what part of the world an image shows. Or you can dig deeper and explain what satellite and instrument produced the image, what spectral bands were used to create it, or what is compelling about some obscure speck in the far corner of an image. If you think something is interesting or noteworthy, tell us about it.
The prize. We can't offer prize money for being the first to respond or for digging up the most interesting kernels of information. But, we can promise you credit and glory (well, maybe just credit). Roughly one week after a puzzler image appears on this blog, we will post an annotated and captioned version as our Image of the Day. In the credits, we'll acknowledge the person who was first to correctly ID the image. We'll also recognize people who offer the most interesting tidbits of information. Please include your preferred name or alias with your comment. If you work for an institution that you want us to recognize, please mention that as well.
Recent winners. If you've won the puzzler in the last few months, please sit on your hands for at least a few days to give others a chance to play.
Releasing Comments. Savvy readers have solved a number of earlier puzzlers after only a few minutes or hours. To give more people a chance to play, we're going to wait between 24-48 hours before posting the answers we've received in the comment thread this time.
October 24th, 2013 by Adam Voiland

Fourteen years ago, the Enhanced Thematic Mapper Plus on Landsat 7 acquired these images of mud trails off the coast of Louisiana. They were caused by bottom trawling in the Gulf of Mexico, a fishing technique that involves dragging large nets across the sea floor.
Bottom trawling is an efficient way to scoop up shrimp and squid, but that's not all that ends up in the nets. As our earlier caption explained: "In addition to harvesting intended species, many trawls indiscriminately capture non-target species, like sea turtles, which are discarded. Trawling crushes or destroys the seafloor habitat that feeds and shelters marine life; the nets literally scrape the mud off the ocean bottom. As the mud resettles, it can smother surviving bottom-dwelling creatures."
Some things have changed and some things have stayed the same since this image was acquired in 1999. In 2006, the National Oceanic and Atmospheric Administration prohibited bottom trawling off of most of the Pacific Coast of the United States. Other countries—including Norway, Canada, Australia, and New Zealand—have also taken steps to discourage the practice. Yet in many parts of the world, including the U.S. Gulf Coast, the practice persists. You can read more about bottom trawling in the Gulf of Mexico from Sky Truth, the Gulf of Mexico Fishery Management Council, and Science Daily.
Bottom trawling isn't the only type of fishing visible from space. Read our new feature about the city of light that appears off the coast of southern Argentina.
[youtube lbSQhy0axH0]
October 17th, 2013 by Adam Voiland
While most of NASA went dark during the government shutdown, life went on at the International Space Station. Throughout October, astronauts Karen Nyberg, Mike Hopkins, and Luca Parmitano sent a steady stream of tweets back to Earth. The most eye-popping of the bunch came from Hopkins, who tweeted this on October 10, 2013: "Saw something launch into space today. Not sure what it was, but the cloud it left behind was pretty amazing."

It turns out it was a Russian missile launch, according to bloggers at the Russian Nuclear Forces Project. The group noted: "The Strategic Rocket Forces carried out a successful test launch of a Topol/SS-25 missile on October 10, 2013. The missile was launched at 17:39 MSK (13:39 UTC) from Kapustin Yar to the Sary Shagan test site in Kazakhstan. According to a representative of the Rocket Forces, the test was used to confirm characteristics of the Topol missile, to test the systems of the Sary Shagan test site, and 'to test new combat payload for intercontinental ballistic missiles.' "
Hopkins' colleague, European Space Agency astronaut Luca Parmitano, also captured the remarkable shot below, which shows the missile's contrail being yanked back and forth by winds at different levels of the atmosphere.  Discovery News, University Today, and Fox News have more coverage.
October 1st, 2013 by Adam Voiland
We're sorry, but we will not be posting updates to this blog during the government shutdown. Also, all public NASA activities and events are cancelled or postponed until further notice. Rest assured that we will be back as soon as possible! We hope that you will stick with us and we promise more great imagery when we return. Please note that we will not be moderating or posting comments until the shutdown is over.
See you on the other side,
Kevin, Mike, Adam, Holli, Jesse, Rob, and Paul
The Earth Observatory Team